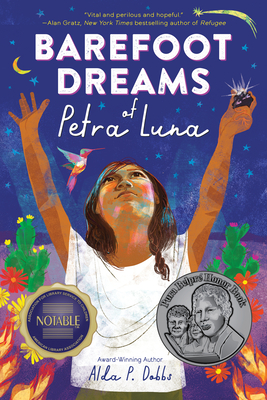 Barefoot Dreams of Petra Luna
Publication Date:
August 2nd, 2022
Publisher:
Sourcebooks Young Readers
The Book Nook
9 on hand, as of Dec 3 8:19pm
(Children)
On Our Shelves Now
Readers will be drawn into the Mexican Revolution as they follow Petra and her family through a world of Federales and revolucionarias. An engaging, action-packed, and mighty fine story!
September/October 2021 Kids Indie Next List
Description
2022 Pura Belpré Honor Book
NYPL Best Book of 2021
Texas Bluebonnet Master List Selection
NPR Best Book of 2021
Based on a true story, the tale of one girl's perilous journey to cross the U.S. border and lead her family to safety during the Mexican Revolution.
"Wrenching debut about family, loss, and finding the strength to carry on."—Booklist, starred review
"Blazes bright, gripping readers until the novel's last page."—Publishers Weekly, starred review
"Vital and perilous and hopeful."—Alan Gratz, New York Times bestselling author of Refugee
It is 1913, and twelve-year-old Petra Luna's mama has died while the Revolution rages in Mexico. Before her papa is dragged away by soldiers, Petra vows to him that she will care for the family she has left—her abuelita, little sister Amelia, and baby brother Luisito—until they can be reunited. They flee north through the unforgiving desert as their town burns, searching for safe harbor in a world that offers none.
Each night when Petra closes her eyes, she holds her dreams close, especially her long-held desire to learn to read. Abuelita calls these barefoot dreams: "They're like us barefoot peasants and indios—they're not meant to go far." But Petra refuses to listen. Through battlefields and deserts, hunger and fear, Petra will stop at nothing to keep her family safe and lead them to a better life across the U.S. border—a life where her barefoot dreams could finally become reality.
"Dobbs' wrenching debut, about family, loss, and finding the strength to carry on, illuminates the harsh realities of war, the heartbreaking disparities between the poor and the rich, and the racism faced by Petra and her family. Readers will love Petra, who is as strong as the black-coal rock she carries with her and as beautiful as the diamond hidden within it."—Booklist, starred review
Praise for Barefoot Dreams of Petra Luna
"[She] was able to explain the basics of the conflict through the characters' conversations, and... it's an historic event that many students will be unfamiliar with and find interesting." — Youth Services Book Review
"Dobbs' wrenching debut, about family, loss, and finding the strength to carry on, illuminates the harsh realities of war, the heartbreaking disparities between the poor and the rich, and the racism faced by Petra and her family. Readers will love Petra, who is as strong as the black-coal rock she carries with her and as beautiful as the diamond hidden within it." — Booklist
"Barefoot Dreams of Petra Luna will draw you in with its raw, evocative setting, and Petra herself will win your heart with her courage, resourcefulness, and unwavering love for her family. Lyrical, heartfelt, and deeply authentic, this book will stay on your mind long after you've read the last page." — J. Anderson Coats, award-winning author of The Many Reflections of Miss Jane Deming
"This beautifully written and exciting story of a family fleeing during the Mexican revolution offers a new perspective in historical fiction. An excellent addition to all collections." — School Library Journal
"Historical fiction that is as relevant as ever...A timeless and timely tale of one girl's journey to save her family and discover herself." — Kirkus Reviews
"With vivid and poetic imagery and artfully balanced narrative tension, Dobbs's assured writing blazes bright, gripping readers until the .novel's last page" — Publishers Weekly, STARRED
"brilliant and authentic historical novel about a young woman's struggle for freedom. Petra Luna's dream will fill your heart with courage" — Francisco X. Stork, award-winning author of Illegal
"Alda P. Dobbs' stunning debut novel, set during the Mexican Revolution, recounts one girl's determination to save her family and follow her dreams. Inspired by the author's great-grandmother, Barefoot Dreams of Petra Luna is as breath-taking as a shooting star. Although the novel takes place over a century ago, this moving story has a profound resonance today. The lovable characters, swift pacing, and simple yet poetic prose make this a captivating read for middle-graders and their entire families. I adored this book and will be recommending it far and wide!" — Laura Resau, award-winning author of TREE OF DREAMS and THE LIGHTNING QUEEN
"What hunger would you endure, what history would you sacrifice, what hazards would you brave to lead your family through a war? Petra Luna's incredible odyssey in pursuit of her 'barefoot dreams' is as vital and perilous and hopeful as that of today's dreamers, who still set off across the desert seeking a better life in America more than a hundred years later." — Alan Gratz, New York Times bestselling author of Refugee
"Barefoot Dreams of Petra Luna" is a thrilling, heart wrenching yet hopeful tale of grit and love... Author Alda Dobbs has gifted Petra with great curiosity and a desire to learn and gifted readers with her poetic prose." — Nancy Baenen, Arcadia Books (Spring Green, WI)
"his story is beautiful and captivating. Petra is a character who you will root for all along the way. Her courage is truly astonishing, and I hope that by reading this book, we are all inspired to call on our own inner Petras in order to attain our dreams." — Laure Colodner, Odyssey Bookshop (South Hadley, MA)
"Based on the true story of Dobbs' family's immigration, this is a timely and profound novel about 12-year-old Petra crossing the U.S. border during the Mexican Revolution in 1913." — Alyssa Raymond, Copper Dog Books (Beverly, MA)
"This is a rich historical story will start timely conversations for readers of all ages. But, more than anything, young readers will find themselves drawn to the family story at the heart of the book and inspired by Petra's dreams and determination." — Lady Smith, The Snail on the Wall
"Thought provoking and a surreal look at how things change and stay the same. The characters are so real you feel as though they are friends." — Sue Lacey, Page 158 Books
"Alda P. Dobbs beautifully brings the untold perspective of a young girl living during the Mexican Revolution to light. Even as a book written for young readers, this story will reach the hearts and dreams of readers at any age." — Cat Chapman, Oxford Exchange
"Teachers and librarians may want to use the example of the author's research into the events of the story as a teachable moment when explaining how to study and present information about history. " — School Library Connection