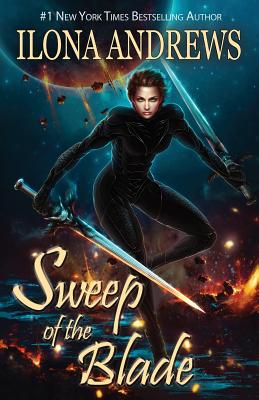 Sweep of the Blade (Innkeeper Chronicles #4)
This product is not returnable.
Publication Date:
July 16th, 2019
Publisher:
Nancy Yost Literary Agency, Inc
The Book Nook
1 on hand, as of Dec 5 8:20am
(General Fiction)
On Our Shelves Now
Description
Maud Demille is a daughter of Innkeepers--a special group who provide 'lodging' to other-planetary visitors--so she knows that a simple life isn't in the cards. But even Maud could never have anticipated what Fate would throw at her.
Once a wife to a powerful vampire knight, Maud and her young daughter, Helen, were exiled with him for his treachery to the desolate, savage planet of Karhari. Karhari killed her husband, and Maud--completely abandoned by his family--has spent over a year avenging his debts. Rescued by her sister Dina, she's sworn off all things vampire.
Except... In helping Dina save the world, she met Arland, the Marshal of House Krahr, one of the most powerful vampire houses. One thing led to another and he asked for her hand in marriage. She declined. Arland is not used to hearing the word 'no;' and try as she might, Maud can't just walk away from Arland. It doesn't help that being human is a lot harder for Maud than being a vampire.
To sort it all out, she accepts his invitation to visit his home planet. House Krahr is extremely influential and Maud knows that a woman--a human, with a very questionable past--who's turned down a proposal from its most beloved son won't get a warm reception. Maybe she's not sure about marrying Arland, but House Krahr isn't going to decide for her. Maud Demille has never run from a fight, and House Krahr will soon discover that there's a lot more to Maud than they're expecting.