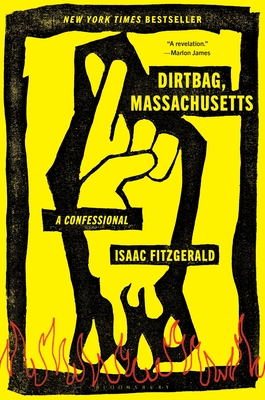 Dirtbag, Massachusetts: A Confessional
Publication Date:
July 19th, 2022
Publisher:
Bloomsbury Publishing
The Book Nook
1 on hand, as of Dec 4 8:19pm
(General Fiction)
On Our Shelves Now
Description
NEW YORK TIMES BESTSELLER
USA TODAY BESTSELLER
Winner of the New England Book Award for Nonfiction

"The best of what memoir can accomplish... pulling no punches on the path to truth, but it always finds the capacity for grace and joy." –Esquire, "Best Memoirs of the Year"

A TIME Must-Read Book of the Year * A Rolling Stone Top Culture Pick * A Publishers Weekly Best Memoir of the Season * A Buzzfeed Book Pick * A Goodreads Readers' Most Anticipated Book * A Chicago Tribune Book Pick * A Boston.com Book You Should Read * A Los Angeles Times Book to Add to Your Reading List * An Entertainment Weekly Best Book of the Month
Isaac Fitzgerald has lived many lives. He's been an altar boy, a bartender, a fat kid, a smuggler, a biker, a prince of New England. But before all that, he was a bomb that exploded his parents' lives—or so he was told. In Dirtbag, Massachusetts, Fitzgerald, with warmth and humor, recounts his ongoing search for forgiveness, a more far-reaching vision of masculinity, and a more expansive definition of family and self.
Fitzgerald's memoir-in-essays begins with a childhood that moves at breakneck speed from safety to violence, recounting an extraordinary pilgrimage through trauma to self-understanding and, ultimately, acceptance. From growing up in a Boston homeless shelter to bartending in San Francisco, from smuggling medical supplies into Burma to his lifelong struggle to make peace with his body, Fitzgerald strives to take control of his own story: one that aims to put aside anger, isolation, and entitlement to embrace the idea that one can be generous to oneself by being generous to others.
Gritty and clear-eyed, loud-hearted and beautiful, Dirtbag, Massachusetts is a rollicking book that might also be a lifeline.
Praise for Dirtbag, Massachusetts: A Confessional
"Fitzgerald nestles comfortably on a bar stool beside writers like Kerouac, Bukowski, Richard Price and Pete Hamill…The book's charm is in its telling of male misbehavior and, occasionally, the things we men get right. The fights nearly all come with forgiveness. It is about the ways men struggle to make sense of themselves and the romance men too often find in the bottom of a bottle of whiskey... an endearing and tattered catalog of one man's transgressions and the ways in which it is our sins, far more than our virtues, that make us who we are." - New York Times Book Review
"Isaac Fitzgerald's memoir-in-essays is a bighearted read infused with candor, sharp humor, and the hope that comes from discovering saints can be found in all sorts of places." - Rolling Stone, "Top Culture Picks of the Month"
"Dirtbag, Massachusetts is the best of what memoir can accomplish. It's blisteringly honest and vulnerable, pulling no punches on the path to truth, but it always finds the capacity for grace and joy." - Esquire, "Best Memoirs of the Year"
"Told without piety or violin strains of uplift, but rather, an embrace of the chaos of just getting by." - Chicago Tribune, "Books for Summer 2022: Our Picks"
"Fitzgerald reflects on his origins—and coming to terms with self-consciousness, anger, and strained family relationships. His writing is gritty yet vulnerable." - TIME, "27 New Books You Need to Read This Summer"
"Fitzgerald never stopped searching for a community that would embrace him. That search took him from San Francisco to Burma (now Myanmar), and he candidly shares the formative experiences that helped him put aside anger to live with acceptance and understanding." - Washington Post, "12 Noteworthy Books for July"
"Fitzgerald's project of openhearted self-interrogation still feels refreshing in a culture where men are socialized to bury their pain, or worse, turn it back on the world as misplaced resentment…In their casual, looping trajectories, some of Fitzgerald's essays seem to mimic active processing, like a heart-to-heart over beers. It takes a great deal of trust to commit one's shames — and more than that, the shames of others — to the page with honesty. Messily, lovingly, Fitzgerald lays it bare." - The Los Angeles Review of Books
"[Fitzgerald] reflects on how his journey has both formed him as a man and helped to change his views of masculinity, race and identity. And while his recollections are pervaded by considerations of manliness, he never shuts out other genders or ways of being." - Los Angeles Times
"Isaac Fitzgerald contains multitudes in this frank, engaging memoir: severely lapsed Catholic, lifelong rabble-rouser, well-inked tattoo aficionado. [The tales] recounted here find the bittersweet spot between dirtbag and sublime." - Entertainment Weekly, "Best New Books of July"
"Equal parts illuminating and poignant, Fitzgerald's essays attempt to untangle what it means to be a man in this world and in his own body." - Buzzfeed, "Summer Books You Won't Be Able To Put Down"
"[Dirtbag, Massachusetts] really was an example of bracing honesty, beauty and just straight-up terrific tale-spinning. The best memoirs, like this one, acknowledge that they are not stories of a journey that's over; they are updates from a road the author is still walking. They resist the urge to wrap up lives—particularly when they likely have decades to go—as finished projects with lessons learned, and acknowledge that we are all building the path in front of us as we go." - Linda Holmes, Pop Culture Happy Hour "50 Wonderful Things from 2022"
"A modern look at what it's like to feel lost in America… he manages to handle these indisputably heavy subjects with clear-eyed, darkly humorous care… Dirtbag, Massachusetts is a confession in all the best senses of the word… Fitzgerald shows again and again that there is beauty to be found amid the pain, as hard as it can be to look. It's a fitting lesson from a writer who is clearly as talented as he is tattooed." - San Francisco Chronicle
"Introspective yet entertaining…The book's highlight is a 45-page essay titled 'Maybe I Could Die This Way.' It starts off with Fitzgerald giving away his motorcycle because he knew he was in trouble after driving 70 miles back to San Francisco blackout drunk from Santa Cruz…Near the chapter's end, Fitzgerald revisits that motorcycle incident with a twist designed to make you reflect, both on the stories we tell ourselves about our lives and how we must constantly find new ways to connect and bring meaning to the world. Like every story in Dirtbag, Massachusetts, it's one worth hearing." - Boston Globe
"Every page of this book feels like a piece of this gifted storyteller's heart, and it's unequivocally clear from reading it that there's more where that came from." - Greg Mania, BOMB Magazine
"Fitzgerald reminds me of guys I grew up with who, by nature or by choice, choose to live on the fringes for a bit. This memoir is a series of essays that touch on everything from train hopping and family to violence, porn, and body image. It's funny and heartbreaking but done in a digestible and humorous easy-to-read style. It's simple, he has seen and done a lot, and it's fun to read about." - Chris Black, The Strategist
"Big hearted, vulnerable, honest, funny and so so good. I knew some of it, was surprised by some of it, loved it all. Highly recommend." - Craig Finn, frontman of The Hold Steady
"Any fool can confess. It's the rare writer who reveals, and Dirtbag, Massachusetts is a heart on the sleeve, demons in check, eyes unblinking, unbearably sad, laugh-out-loud funny revelation." - Marlon James, Booker Prize-winning author of MOON WITCH, SPIDER KING
"Isaac Fitzgerald has written about tattoos for grown-ups and pirates for kids, which is actually a good indicator of the range of themes offered up in his new memoir. Dirtbag, Massachusetts explores trauma and violence along with self-forgiveness and grace. Oh, and smuggling medical supplies into Burma." - Goodreads, "Readers' Most Anticipated Books of Summer"
"There will be tough stops along this journey—including discussions of violence, homelessness and trauma—but we suspect Fitzgerald's signature tenderness, humor and generosity will carry readers gently the whole way." - BookPage, "13 Writers to Watch in 2022"
"Fitzgerald weaves a raucous mosaic of a rough-and-ready New England rarely seen with a transfixing story of his path to finding himself. . . The result is a marvelous coming-of-age story that's as wily and raunchy as it is heartfelt." - Publishers Weekly, starred review
"Isaac Fitzgerald grabs readers' attention with the title of his memoir—Dirtbag, Massachusetts: A Confessional—and never lets go. He's a mesmerizing storyteller who deploys unexpected delights from his very first line… heaping helpings of humor, joy, pain, sorrow, grace and insight… Fitzgerald joins the ranks of some of the very best memoirists, including Tobias Wolff, Tara Westover and Dani Shapiro. This entertaining and thoughtful book reveals Fitzgerald's talents as a master craftsman of unusual insight and will leave readers eager for more." - BookPage, starred review
"Fitzgerald's confessional has a punk rock grittiness . . . Reading Dirtbag, Massachusetts for the first time is akin to digging into an open wound, hoping to find the offending shard of glass and in the process learning that there's far more beneath the surface. Fitzgerald has created a transformative experience for the reader that leaves them gasping for air long after they've put down the book." - Shondaland
"Tenderhearted . . . Fitzgerald's stories are introspective and exude self-awareness. Readers will leave with a true soft spot for him." - Library Journal
"Chaotic and wonderfully crafted… A reminder that life isn't linear and all we can do is show up for each other in the ways we know how. If that's something you feel like you need to hear or if you just want a funny, thoughtful memoir with some light insurance fraud, go put Dirtbag Massachusetts on your summer reading list.' - Mid-American Review
"Nuanced and thoughtful… Though Dirtbag, Massachusetts is confessional, it is not pious." - America Magazine
"Dirtbag, Massachusetts is a memoir-in-essays about how a lost soul with a diamond heart manages to figure out—after a series of jet-fueled, drug-addled escapades—how to put together a life out of all the pieces left in the wreckage of his past . . . the essays also trace indelible moments of joy and a lifelong devotion to books and reading." - SPIN
"At a time when America is wrestling with its worst demons in ever more public and violent ways, Fitzgerald's book in a way offers an alternate path out of that storm, rooted in love and understanding." - Gambit, "Great Books to Give as Gifts"
"As an essayist and editor, Fitzgerald had long served as a kind of genial barkeep of the literary internet — an avuncular, boozy presence with killer taste in books." - Robert Moor, New York Magazine
"Vulnerable, revealing, and tender, Fitzgerald's Dirtbag, Massachusetts has it all—faith, sex, fear, resilience, and love. His is a story of a real American family and a beautiful and creative American son."
- Min Jin Lee, author of the National Book Award Finalist PACHINKO
"Dirtbag, Massachusetts is a wondrously crafted confessional in every sense of the word, one of the finest, and really sneakiest narrative boasts I've read in decades. Isaac Fitzgerald will remind you of the wobbly majesty possible when fears of tomorrow and yesterday are innovatively confronted and masculinity is shredded. Goodness gracious." - Kiese Laymon, author of HEAVY
"Ebullient, irreverent, tender, Dirtbag, Massachusetts is a record of a love for the world in all its messy fullness that you just can't fake, and how that came to be. I felt more alive after reading these essays, and whatever I thought I knew, Isaac Fitzgerald taught me something new. He's a ringleader for the Circus in the House of Love." - Alexander Chee, author of HOW TO WRITE AN AUTOBIOGRAPHICAL NOVEL
"Dirtbag, Massachusetts isn't just a book; it's life-work." - Saeed Jones, author of HOW WE FIGHT FOR OUR LIVES
"This book, this beautiful, sprawling, chaotic memoir in essays, is indeed a confessional. It is a man peeling back the layers of himself, revealing the white of his bones, the depth of his soul, the truth of his flaws, and the power of the best parts of him, of which there are so many. Isaac Fitzgerald will make you feel absolutely everything as he recounts a childhood no one should have to endure, and how he has tried to rebuild the parts of himself that other people broke. He is charming and vulnerable, curious and candid, full of dirtbag swagger. I loved this book. When I turned the last page, I wanted more but was so grateful to have spent this time with a man who is on the complicated but joyful journey of becoming and being himself." - Roxane Gay
"Dirtbag, Massachusetts is a diamond of a memoir. Fitzgerald's sentences are so clean and true that you'll never realize you're cut until you're bleeding. Or you know, crying." - Mira Jacob, author of THE SLEEPWALKER'S GUIDE TO DANCING
"Isaac Fitzgerald lays himself bare in this stunning memoir, stripping off all the things that no longer serve him. Raw, vulnerable, and powerful, this book will be a key in the lock of many hearts and minds." - Emma Straub
"This book is a rock anthem you're so busy dancing to you almost don't notice when the lyrics slip in and break your heart. What a gorgeous, sensitive, rambunctious, and funny book about the ways we survive our own lives and choices. I loved going on adventures with Fitzgerald in these essays, hunting alongside him for the kinds of chosen family and love and purpose and storytelling that have the power to carry us through even the darkest of days." - CJ Hauser, author of THE CRANE WIFE
"Dirtbag, Massachusetts is glimmering, dirty, and humble. A masterful blend of humor, intelligence, and craft. This book is the antidote to toxic masculinity." - Chloe Caldwell, author of The Red Zone: A Love Story
"Any fool can confess. It's the rare writer who reveals, and Dirtbag, Massachusetts is a heart on the sleeve, demons in check, eyes unblinking, unbearably sad, laugh-out-loud funny revelation." - MARLON JAMES, author of Moon Witch, Spider King
"A beautiful book, probing into the wellsprings of his success and into the people he met along the way." - Bill Goldstein, an NBC-4 Summer Book Pick
"Every story is fascinating, but it's the way that he writes that makes it so good… Definitely in my top five of the year." - Comedian Anthony Jeselnik