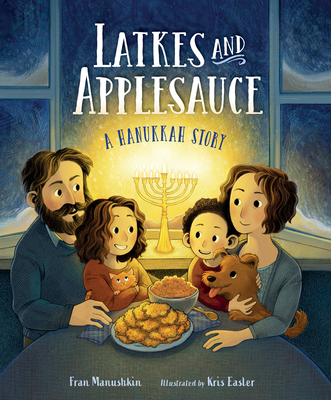 Latkes and Applesauce: A Hanukkah Story
Publication Date:
September 27th, 2022
The Book Nook
2 on hand, as of Nov 30 7:20pm
(Children)
On Our Shelves Now
Description
A cat and dog create a Hanukkah miracle, just in the nick of time in this updated reissue of the beloved holiday classic.
The Menashes love latkes and applesauce during Hanukkah. But a blizzard begins and erases any hope that they'll harvest potatoes and apples in time. When a stray cat and dog show up, there's not a lot of food to offer them, but kindness prevails, and they're invited in. It turns out that the dog—Latke—and the cat—Applesauce—save the day.
Praise for Latkes and Applesauce: A Hanukkah Story
♦ A heavy snowstorm affects a family's Hanukkah celebrations.
This new version of a tale originally published in 1989 with illustrations by Robin Spowart sees the Menashe family planning to celebrate Hanukkah with the traditional candles, games, and, most especially, delicious feasts of latkes and applesauce. But the snow is falling relentlessly, there are no apples in the house, and the potatoes are covered under the heavy snow. Still, Papa, Mama, Rebecca, and Ezra find joy in lighting the candles, one more each night, playing the dreidel game, and eating their quickly dwindling chicken soup. Two visitors, a small kitten and a skinny dog, provide a surprising and very satisfying conclusion, reflected in the wonderfully appropriate new names they are given. The narrative feels like a folktale, with simple, descriptive language that highlights ever hopeful Papa's charming phrases as he encourages a cheerful outlook. Easler's large-scale, digitally rendered graphite and gouache illustrations complement the text and add lovely touches of humor. The family members are expressive, depicted with tan skin and dark brown hair. Although the tale is set "long ago in a village far away," there is a definite modernity to the family's clothes and furnishings. The author addresses young readers at the end, asking if the story is a miracle ("Who can say? It happened, and maybe that is miracle enough for anyone!"). 
A warm and tender tale of a loving Jewish family celebrating an ancient tradition. (information on Hanukkah, latkes and applesauce, and the dreidel) 
— Kirkus Reviews, starred review
It's Hanukkah, and the Menashe family is stuck at home during a blizzard in this picture-book reissue, with new illustrations and an updated text. The family is out of apples, and their potatoes are buried under the snow. As the snow keeps falling throughout the holiday and the lack of food becomes more serious, a cat and then a dog arrive in need of help—and ultimately lead the family to discoveries that feel miraculous…and are definitely delicious. The tale of generosity rewarded draws readers (and listeners) in with a storyteller's cadence, and the mixed-media illustrations show deep-blue winter nights and warm, luminous family scenes. Back matter gives more information about various elements of Hanukkah.
—The Horn Book
"Long ago in a village far away," the Menashe family is ready to celebrate Hanukkah, but their plans are foiled by a blizzard. Latkes and Applesauce: A Hanukkah Story updates the text of a charming wintry tale originally published in 1989, replacing Robin Spowart's illustrations with new artwork by Kris Easler.Mama, Papa, Rebecca and Ezra usually dig up potatoes from their garden to make latkes and pick apples from their trees for applesauce. This year, Mama notes, "the blizzard has swallowed our feast." As the days pass, the family's food supply dwindles, yet they continue to celebrate as best they can.Author Fran Manushkin heightens the tension yet keeps the mood upbeat and reassuring. Two unexpected visitors, a stray cat and dog, delight the children but also mean more mouths to feed. "Where there's life, there's hope," Papa repeatedly reminds his family.Easler's illustrations lend a contemporary vibe to this "long ago" family. Every spread is bathed in warmth, the glow emanating from the Menashes' home contrasting with the deep blue of the falling snow. The kindness shown to the stray animals leads to a solution to the family's dilemma that's a bit predictable but still rewarding. Cheerful and cozy, this edition of Latkes and Applesauce has the makings of a new classic.
—BookPage