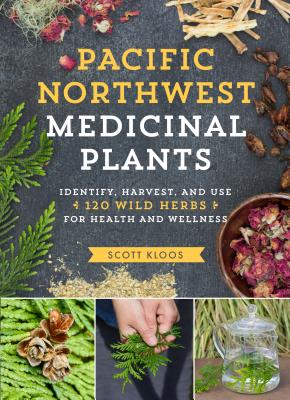 Pacific Northwest Medicinal Plants: Identify, Harvest, and Use 120 Wild Herbs for Health and Wellness (Medicinal Plants Series)
Publication Date:
May 17th, 2017
The Book Nook
4 on hand, as of Dec 3 8:19pm
(Pacific Northwest)
On Our Shelves Now
Description
"An incredibly thorough guide for identifying, harvesting, and utilizing medicinal plants." —Dr. Deborah Frances RN, ND Naturopathic physician, herbalist, author, and lecturer
In Pacific Northwest Medicinal Plants, Scott Kloos is your trusted guide to finding, identifying, harvesting, and using 120 of the region's most powerful wild plants. You'll learn how to safely and ethically forage, and how to use wild plants in herbal medicines including teas, tinctures, and salves. Plant profiles include clear, color photographs, identification tips, medicinal uses and herbal preparations, and harvesting suggestions. Lists of what to forage for each season makes the guide useful year-round. Thorough, comprehensive, and safe, this is a must-have for foragers, naturalists, and herbalists in Oregon, Washington, Alaska, and northern California.
Praise for Pacific Northwest Medicinal Plants: Identify, Harvest, and Use 120 Wild Herbs for Health and Wellness (Medicinal Plants Series)
"An incredibly thorough guide for identifying, harvesting, and utilizing medicinal plants. The inclusion of balanced, open-hearted comments on sustainable wildcrafting, finely individualized to each plant, is laudable." —Dr. Deborah Frances RN, ND Naturopathic physician, herbalist, author, and lecturer
 
"A carefully written, easy-to-read, comprehensive, beautiful herbal and plant guide for the Pacific Northwest."—Matthew Wood, MS (herbal medicine), registered herbalist (American Herbalists Guild)
 
"This authoritative and heartfelt field guide to Pacific Northwest medicinal plants will spend more time in the field or kitchen than on your bookshelf!"—Robin Rose Bennett, herbalist, author of The Gift of Healing Herbs and Healing Magic
"Kloos, founder of The School of Forest Medicine, is an apt guide to foraging these 120 plants. He is also a gifted photographer, providing a visual treat to nice plant ID descriptions. . . . a complete and useful guide." —The American Herb Association Quarterly
"Add this book to your reading list and learn how to create your very own wellness garden." —The Columbian 
"With the right tools, one can learn how to make teas, tinctures and salves that promote good health, and Kloos makes it easy to avoid the harmful effects of wild plants." —The Herald
"This is a very complete and up to date book featuring 120 of the most important medicinal plants growing from northern California to Alaska. Written from the heart, this book covers growth habit, plant identification, geographical distribution, medicinal uses, sustainability, preparation, cautions, and wildcrafting." —The Oregonian
"Top Gardening Pick to Grow Your Collection." —The Daily Herald