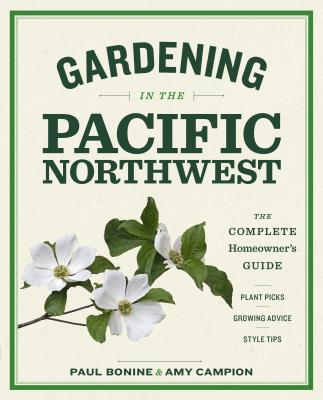 Gardening in the Pacific Northwest: The Complete Homeowner's Guide
Publication Date:
December 27th, 2017
The Book Nook
2 on hand, as of Dec 3 8:19pm
(Pacific Northwest)
On Our Shelves Now
Description
A must-have growing guide for gardeners in the Pacific Northwest
A gardener's plant choices and garden style are inextricably linked to the place they call home. In order to grow a flourishing garden, every gardener must know the specifics of their region's climate, soil, and geography. Gardening in the Pacific Northwest, by regional gardening experts Paul Bonine and Amy Campion, is comprehensive, enthusiastic, and accessible to gardeners of all levels. It features information on site and plant selection, soil preparation and maintenance, and basic design principles. Plant profiles highlight the region's best perennials, shrubs, trees, and vines. Color photographs throughout show wonderful examples of Northwest garden style. 
Praise for Gardening in the Pacific Northwest: The Complete Homeowner's Guide
"Concise, witty, and pertinent content from our region's most notable horticulturists." —Daniel J. Hinkley, author, plant collector, and lecturer
"Useful for libraries in the massive region of the U.S. that extends from the Pacific Northwest coast all the way east to the Rockies." —Booklist
"A handy primer to anyone new to Northwest gardening." —Sunset
"Covers everything that you would ever need to know about the nuances of gardening in this amazing region we all call home." —The Oregonian
"A game changer for so many gardeners in our region, both beginning and experienced." —Danger Garden
"Beautiful. . . . if you like what you see here you'll LOVE the rest of the book!" —Garden Therapy