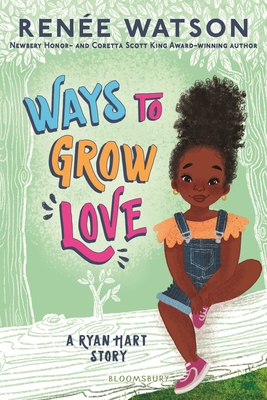 Ways to Grow Love (A Ryan Hart Story)
Publication Date:
April 26th, 2022
Publisher:
Bloomsbury Children's Books
The Book Nook
1 on hand, as of Dec 8 8:19pm
(Children)
On Our Shelves Now
Description
Newbery Honor and Coretta Scott King Author Award winner Renée Watson continues her charming young middle grade series starring Ryan Hart, a girl who is pure spirit and sunshine.
Ryan Hart loves her family and friends. She's looking forward to summer vacation, spending time with loved ones, and her first trip to sleepaway camp! But when an unexpected camper shows up, Ryan finds it's hard to share your best friend and harder to be a friend to someone who isn't a good friend to you. She's also waiting for her new sister to be born -- and hoping the baby doesn't ruin everything. The Hart family is experiencing a lot of changes, and Ryan needs to grow her patience in many ways, find ways to share the love, meet new challenges, and grow into the leader her mom and dad named her to be. This summer and the start of fifth grade just might give Ryan the chance to show how she grows and glows!
Acclaim for Ways to Make Sunshine:
A New York Times Best Children's Book of the Year | A Parents Magazine Best Book of the Year | A School Library Journal Best Book of the Year | A Kirkus Reviews Best Book of the Year | A Publishers Weekly Best Book of the Year | A WORLD Magazine Best Book of the Year | An Amazon Best Book of the Year
Praise for Ways to Grow Love (A Ryan Hart Story)
"Watson's heroine is smart and courageous, bringing her optimistic attitude to any challenge she faces. . . . The second installment in this spirited series is a hit." —Kirkus Reviews, starred review
"Realistic snapshots of love in action are peppered with funny mishaps and small mistakes, all of which add up to an uplifting, reassuring read." —Booklist, starred review
"Relatable and inspirational. A young optimistic Black girl, Watson's irresistible Ryan models how to navigate a changing world with resilience, kindness, and love, all of which are reflected in Mata's delightful illustrations. A fabulous purchase that celebrates the awesome power of love, kindness, and being true to oneself." —School Library Journal, starred review
"Rising fifth-grader Ryan is an engaging heroine, with a creative streak and a take-charge attitude. While new readers will find pleasure here, it'll be Ryan's existing fans who will understand the backstory and revel in watching their girl find her feet in new situations." —BCCB
"An expert at creating complex characters, Watson ensures that no one will be two dimensional. With each chapter serving as its own short story, this second installment about Ryan is every bit as enjoyable as the first." —Horn Book Magazine
"Intermittently funny, frustrating, and touching. . . . Allows black readers to see themselves and all readers to find a character they can love. Move over Ramona Quimby, Portland has another neighbor you have to meet!" —Kirkus Reviews, starred review, on WAYS TO MAKE SUNSHINE
"Adroitly captures the uncertainty of growing up amid change through the eyes of an irrepressible black girl." —Publishers Weekly, starred review, on WAYS TO MAKE SUNSHINE
"Ryan Hart approaches challenges in her life with bravery, common sense, and humor. . . . a refreshing character." —Horn Book Magazine on WAYS TO MAKE SUNSHINE
"Middle graders who like realistic fiction will enjoy getting to know this earnest girl and her supportive family." —School Library Connection on WAYS TO MAKE SUNSHINE
"Plenty of charm . . . readers will look forward to Ryan's future adventures." —BCCB on WAYS TO MAKE SUNSHINE
"The theme of loving family and friends even through difficult times will resonate with readers. Cheerful black-and-white illustrations enhance the story and convey Ryan's effervescent personality." —School Library Journal online on WAYS TO MAKE SUNSHINE
"Renée Watson is a gifted storyteller who brings vibrant new meaning to time and place. In this beautiful blend of family, history, and culture, Watson lets us discover that one's true home is rooted in the heart and soul." —Andrea Davis Pinkney, New York Times bestselling author of THE RED PENCIL on SOME PLACES MORE THAN OTHERS
"Renée Watson's storytelling mastery is on full display in Some Places More Than Others, which is so thematically vibrant and emotionally rich as to defy description. A magnificent book." —Mike Jung, author of UNIDENTIFIED SUBURBAN OBJECT on SOME PLACES MORE THAN OTHERS
"A beautiful novel about family and forgiveness, about the memories we carry with us wherever we go, and the places our hearts call home." —Kate Messner, award-winning author of BREAKOUT on SOME PLACES MORE THAN OTHERS
"A meaningful opportunity for students--particularly those in underrepresented communities--to celebrate themselves and their identities." —School Library Connection, starred review, on SOME PLACES MORE THAN OTHERS
"Watson is a master of structure and character development. . . . Amara's search for her roots is tender and empowering." —School Library Journal, starred review, on SOME PLACES MORE THAN OTHERS
"A much-needed novel about the importance of roots and family connections." —Foreword Reviews, starred review, on SOME PLACES MORE THAN OTHERS
"Captures a young person's growing enlightenment as she experiences one of the world's most culturally rich neighborhoods. . . . Very relatable. . . . Quietly powerful.
" —The New York Times Book Review on SOME PLACES MORE THAN OTHERS
"Timely and timeless." —Jacqueline Woodson, National Book Award winning author of BROWN GIRL DREAMING on PIECING ME TOGETHER
"Watson, with rhythm and style, somehow gets at . . . the life-changing power of voice and opportunity, all wrapped up in Jade." —Jason Reynolds, author of ALL AMERICAN BOYS on PIECING ME TOGETHER
"An important and deeply moving novel." —John Green, bestselling and award-winning author of THE FAULT IN OUR STARS on PIECING ME TOGETHER
"Teeming with compassion and insight." —Publishers Weekly, starred review, on PIECING ME TOGETHER
"A timely, nuanced, and unforgettable story." —Kirkus Reviews, starred review, on PIECING ME TOGETHER
"A nuanced meditation on race, privilege, and intersectionality." —SLJ, starred review, on PIECING ME TOGETHER
"Will resonate with many readers." —BCCB, starred review, on PIECING ME TOGETHER