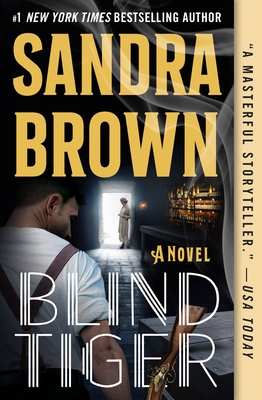 Blind Tiger
Publication Date:
March 29th, 2022
Publisher:
Grand Central Publishing
The Book Nook
2 on hand, as of Dec 4 8:19pm
(Mystery/Adventure)
On Our Shelves Now
Description
With a "knack for romantic tension and page-turning suspense, this one is a winner." The year 1920 comes in with a roar in this rousing and suspenseful New York Times bestselling novel by Sandra Brown. Prohibition is the new law of the land, but murder, mayhem, lust, and greed are already institutions in the Moonshine Capitol of Texas (Booklist, starred review).
Thatcher Hutton, a war-weary soldier on the way back to his cowboy life, jumps from a moving freight train to avoid trouble . . . and lands in more than he bargained for. On the day he arrives in Foley, Texas, a local woman goes missing. Thatcher, the only stranger in town, is suspected of her abduction, and worse. Standing between him and exoneration are a corrupt mayor, a crooked sheriff, a notorious cathouse madam, a sly bootlegger, feuding moonshiners . . . and a young widow whose soft features conceal an iron will.
 
What was supposed to be a fresh start for Laurel Plummer turns to tragedy. Left destitute but determined to dictate her own future, Laurel plunges into the lucrative regional industry, much to the dislike of the good ol' boys, who have ruled supreme. Her success quickly makes her a target for cutthroat competitors, whose only code of law is reprisal. As violence erupts, Laurel and—now deputy—Thatcher find themselves on opposite sides of a moonshine war, where blood flows as freely as whiskey.
Includes a Reading Group Guide.
Praise for Blind Tiger
"Set in 1920, this superior thriller from bestseller Brown firmly anchors all the action in the plot . . . Laurel and Thatcher are strong and inventive characters, and their surprising decisions and evolving relationship will keep readers engaged. Brown shows why she remains in the top rank of her field."—Publishers Weekly, Starred Review
"Brown doesn't often delve into historical fiction territory, but she does here with gusto, and readers will practically taste the dusty streets of Foley and feel every rickety bump of the moonshiners' trucks. There are shoot-outs and reformed prostitutes and a no-good hillbilly family, but none of it feels like an empty stereotype—it's just all a lot of fun. Combined with Brown's knack for romantic tension and page-turning suspense, this one is a winner."—Booklist, Starred Review
"[Brown's] career masterwork and a genuine masterpiece that's rich in detail woven into a sprawling tapestry."—Providence Journal
"A thrill ride . . . The historical nature of the story regarding the west Texas setting, the Texas Rangers, and how Prohibition made criminals out of those just wanting a beer is intriguing."—BookReporter.com
"Chock-full of memorable and endearing characters, Blind Tiger is an exceptional adventure that mixes mystery, history, rousing action, and a deeply nuanced love story of two wounded people seeking wholeness."—Historical Novels Review
"Creative, wild, and genius . . . Through the talent of this author we enter a world that is ripe with corruption, greed, envy, avarice, violence. And yet Sandra Brown reminds us that . . . there are still those that rise up, believe in love, and have faith."—Fresh Fiction
"A winner."—AARP
"Blind Tiger is an entertaining read featuring a good story, a fascinating setting and interesting characters."—Toronto.com
"A masterful storyteller."—USA Today
"Brown deserves her own genre."—Dallas Morning News
"A novelist who can't write them fast enough."—San Antonio Express-News
"One of the best thriller writers around, period."—Providence Journal