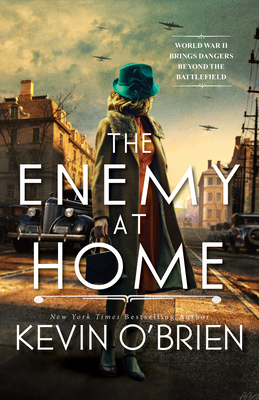 The Enemy at Home: A Thrilling Historical Suspense Novel of a WWII Era Serial Killer
Publication Date:
August 22nd, 2023
The Book Nook
3 on hand, as of Nov 28 2:20pm
(Holiday Catalog 2023)
On Our Shelves Now
Description
"Tantalizing…had me guessing and turning pages right up to the final, shocking reveal—which I never saw coming." —Charlie Donlea, bestselling author of Twenty Years Later
Perfect for readers of The Nurse's Secret, this provocative and captivating new book from the New York Times bestselling author follows a diabolical murderer as he preys on women in WW2 era Seattle. Thoroughly researched, this gripping new historical thriller featuring a diverse, engaging cast of characters is at once vivid, richly detailed, and laced with taut suspense.
"Fast-paced, suspenseful, and intriguing... Super enjoyable." —Elizabeth George, #1 New York Times bestselling author
"A sweeping, addictive story of bravery and sacrifice…Authentic period detail creates a suspenseful, chilling atmosphere in this grand historical novel." —Susan Wiggs, #1 New York Times bestselling author
1943, Seattle. While raging war reshapes the landscape of Europe, its impact is felt thousands of miles away too. Before the war, Nora Kinney was one of countless housewives and mothers in her comfortable Capitol Hill neighborhood. Now, with her doctor husband stationed in North Africa, Nora feels compelled to do more than tend her victory garden or help with scrap metal drives . . .
At the Boeing B-17 plant, Nora learns to wield a heavy riveting gun amid the deafening noise of the assembly line—a real-life counterpart to "Rosie the Riveter" in the recruitment posters. Yet while the country desperately needs their help, not everyone is happy about "all these women" taking over men's jobs. Nora worries that she is neglecting her children, especially her withdrawn teenage son. But amid this turmoil, a sinister tragedy occurs: One of Nora's coworkers is found strangled in her apartment, dressed in an apron, with a lipstick smile smeared on her face.
It's the beginning of a terrifying pattern, as women war-plant workers like Nora are targeted throughout Seattle and murdered in the same ritualistic manner. And eclipsing Nora's fear for her safety is her secret, growing conviction that she and the killer are connected—and that the haven that was her home has become her own personal battlefield . . .
"Nobody writes suspense better than Kevin O'Brien. Read The Enemy at Home, but do so with the lights on." —Robert Dugoni, New York Times bestselling author
"A compulsively unputdownable, keep-you-guessing-to-the-end, pages-flying whodunit. Packed with compelling, complicated characters in a fascinating and meticulously-researched time and place." —Laurie Frankel, New York Times bestselling author of This Is How It Always Is
"The curves in the plot kept me reading late into the night (while checking the locks on my doors!)." —Erica Bauermeister, New York Times bestselling author of No Two Persons
Praise for The Enemy at Home: A Thrilling Historical Suspense Novel of a WWII Era Serial Killer
Praise for THE ENEMY AT HOME by Kevin O'Brien
"Equally excellent as historical fiction as it is a mystery…A richly detailed, wonderfully compelling tale set in Seattle in the midst of the second World War…O'Brien takes the reader along as he tells several stories: the experiences of the gay and lesbian community, Japanese-American incarceration, the navy service of Nora's brother…This is a perfect read for a book discussion, marrying the experience of domestic life during the War and an awfully good mystery."—Brian Kenney, firstCLUE
"A tantalizing whodunnit set in WW II Seattle with a cast of red herrings that had me guessing and turning pages right up to the final, shocking reveal—which I never saw coming." —Charlie Donlea, USA Today bestselling author of Twenty Years Later
 
"Nobody writes suspense better than Kevin O'Brien. Read The Enemy at Home, but do so with the lights on." —Robert Dugoni, New York Times bestselling author
"A sweeping, addictive story of bravery and sacrifice, told in Kevin O'Brien's cinematic style. Authentic period detail creates a suspenseful, chilling atmosphere in this grand historical novel." —Susan Wiggs, # 1 New York Times bestselling author
"A classic Kevin O'Brien page-turner, with a new historical twist. O'Brien takes us deep into Seattle during WWII, as his heroine juggles work, misogyny, solo parenting, and a serial killer on the loose. Nora is a heroine to root for, and the curves in the plot kept me reading late into the night (while checking the locks on my doors!)." —Erica Bauermeister, New York Times bestselling author of No Two Persons

"Kevin O'Brien's latest is a compulsively unputdownable, keep-you-guessing-to-the-end, pages-flying whodunit, and as if that weren't enough, The Enemy at Home is also packed with compelling, complicated characters in a fascinating and meticulously-researched time and place. World War II Seattle where women were newly considered workers, Japanese-American citizens were newly considered threats, and closeted gay communities were newly considering a place for themselves all combine to bring this timely novel vividly to life. A new Kevin O'Brien book is always cause for celebration, and this is his best yet." —Laurie Frankel, New York Times bestselling author of This Is How It Always Is
"Kevin O'Brien's new book takes us to Seattle in the opening years of the US involvement in World War II, when a serial killer is on the loose, targeting women who are contributing to the war effort by becoming Rosie the Riveters. The book is fast-paced, suspenseful, and intriguing, and it kept this reader guessing about the killer's identity nearly till the big reveal. Super enjoyable." —Elizabeth George, #1 New York Times bestselling author
"Kevin O'Brien delivers again in this fast paced, page turning historical novel. The rich details of World War II era Seattle and deeply drawn characters combine to pull the reader through the twists and turns of this thought provoking read.  I couldn't put it down!" - James D. Shipman, acclaimed author of Irena's War and Before the Storm