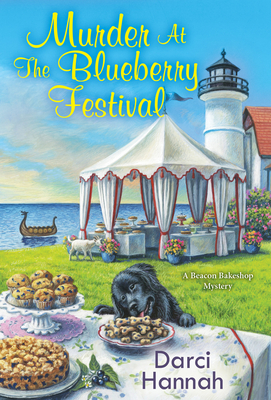 Murder at the Blueberry Festival (A Beacon Bakeshop Mystery #3)
Publication Date:
July 26th, 2022
Usually Ships in 1 to 5 Days
Description
Living in a lighthouse with her dog, Lindsey Bakewell is lulled to sleep at night by the sound of Lake Michigan's waves—and gets up at the crack of dawn to start the day at her bakery café.  But someone in Beacon Harbor is about to rock the boat with murder…
After a career on Wall Street, Lindsey is making a different kind of dough in a pretty lakeside village, and the upcoming blueberry festival—including the pie-eating contest her bakery is hosting—is the highlight of the summer. But soon Beacon Harbor runs into a patch of trouble.
A local real estate agent gets pranked. A parade float gets pelted with water balloons. It's all laughed off until the stunts start escalating—and looking more like sabotage. As the event turns into a debacle complete with rampaging goats, Lindsey's sweetheart, a former SEAL, starts investigating. But the juicy mystery takes a bitter turn when a man—dressed up as a Viking—is found dead in a boat, and it's no longer mischief but murder…