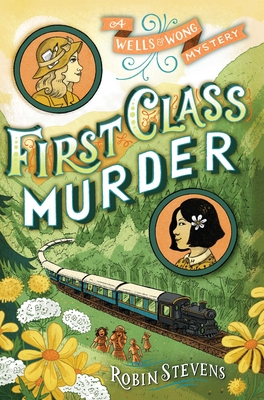 First Class Murder (A Murder Most Unladylike Mystery)
Publication Date:
April 4th, 2017
Publisher:
Simon & Schuster Books for Young Readers
The Book Nook
2 on hand, as of Dec 3 8:19pm
(General Fiction)
On Our Shelves Now
Description
A murdered heiress, a missing necklace, and a train full of shifty, unusual, and suspicious characters leaves Daisy and Hazel with a new mystery to solve in this third novel of the Wells & Wong Mystery series.
Hazel Wong and Daisy Wells are taking a vacation across Europe on world-famous passenger train, the Orient Express—and it's clear that each of their fellow first-class travelers has something to hide. Even more intriguing: There's rumor of a spy in their midst.
Then, during dinner, a bloodcurdling scream comes from inside one of the cabins. When the door is broken down, a passenger is found murdered—her stunning ruby necklace gone. But the killer has vanished, as if into thin air.
The Wells & Wong Detective Society is ready to crack the case—but this time, they've got competition.
Praise for First Class Murder (A Murder Most Unladylike Mystery)
PRAISE FOR MURDER IS BAD MANNERS
*"Irresistible."
— Kirkus Reviews, STARRED REVIEW
*"A pitch-perfect snapshot of adolescent friendship... A sharp-witted debut for Stevens, one that will leave readers eagerly awaiting subsequent installments."
— Publishers Weekly, STARRED REVIEW
"[A] delightful romp....This book, the first in a series, is a "jolly good read," one which intermediate girls will enjoy and share."
— School Library Connection
"[A] first-rate homage to English boarding school adventure and period murder-mystery tales....Middle-schoolers with a taste for Agatha Christie (and perhaps PBS costume or mystery dramas) will eat this up and ask for more."
— The Bulletin of the Center for Children's
"Wells and Wong . . . leave readers eager to read more of their appealing tales."
— Shelf-Awareness Pro
"Stevens's engaging tale shines with the reflected charms of its detecting duo, a winsome combination of thoughtfulness and relish."
— School Library Journal
"Nancy Drew, meet Wells and Wong."
— Booklist
"Friendship, boarding school, and a murder worthy of Agatha Christie."
— The Bookseller
"A skillful blend of golden era crime novel and boarding school romp, with a winning central relationship between plump, anxious Hazel, a new girl who has arrived from Hong Kong, and the super-confident blonde English rose, Daisy Wells. The novel works well both as an affectionate satire and an effective mystery story. . . . Top class."
— Suzie Feay
"Reading Murder Is Bad Manners is like drinking cocoa by a fireside: It is warm and witty and deeply satisfying."
— Katherine Rundell, author of Rooftoppers and Cartwheeling in Thunderstorms
"Murder Is Bad Manners lured me in with a charming British voice, and then, just as I started to get cozy, snap! I was trapped in a serious mystery problem. Robin Stevens develops her girl detectives with a light, deft touch and delivers denouement with a flourish."
— Nancy Springer, author of the Enola Holmes series
"Robin Stevens's MURDER IS BAD MANNERS is what I wish every mystery could be: a perfectly-plotted puzzle told in a deft and charming voice. The story is a brilliant mixture of classic detective work and contemporary humor—I enjoyed every page!"
— Jonathan Auxier, author of The Night Gardener and Peter Nimble and His Fantastic Eyes
"Satisfyingly unpredictable. I did not guess the whodunit. Ripping good fun."
— Alex O'Connell
"Really cleverly done and unexpected for what I thought would be a straightforward whodunit caper."
— Melissa Cox, Head Children's Buyer at Waterstones
*"There's solid suspense, humor, and food for thought....'the Detective Society's most exciting adventure yet!'"
 
— Kirkus Reviews, STARRED REVIEW
"[A] more than credible take on the Agatha Christie original. . . . both [a] solid mystery and delightful romp."
— Booklist Online