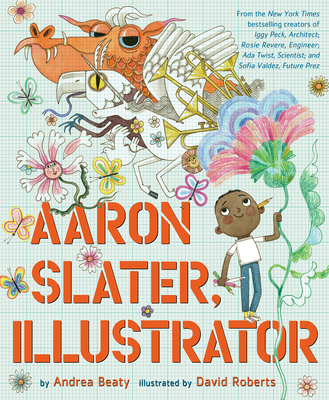 Aaron Slater, Illustrator (The Questioneers)
Publication Date:
November 2nd, 2021
Publisher:
Harry N. Abrams
Usually Ships in 1 to 5 Days
Description
Aaron Slater, Illustrator is an uplifting story about the power of art, finding your voice, and telling your story even when you're out of step with your peers, from Andrea Beaty and David Roberts, the #1 bestselling creators of Sofia Valdez, Future Prez and Ada Twist, Scientist!
An instant #1 New York Times bestseller!
An instant USA Today bestseller!
Aaron Slater loves listening to stories and dreams of one day writing them himself. But when it comes to reading, the letters just look like squiggles to him, and it soon becomes clear he struggles more than his peers. When his teacher asks each child in the class to write a story, Aaron can't get a single word down. He is sure his dream of being a storyteller is out of reach . . . until inspiration strikes, and Aaron finds a way to spin a tale in a way that is uniquely his.
Printed with a dyslexia-friendly font, Aaron Slater, Illustrator tells the empowering story of a boy with dyslexia who discovers that his learning disability may inform who he is, but it does not define who he is, and that there are many ways to be a gifted communicator.
Check out all the books in the Questioneers Series:
The Questioneers Picture Book Series: Iggy Peck, Architect | Rosie Revere, Engineer | Ada Twist, Scientist | Sofia Valdez, Future Prez | Aaron Slater, Illustrator | Lila Greer, Teacher of the Year
The Questioneers Chapter Book Series: Rosie Revere and the Raucous Riveters | Ada Twist and the Perilous Pants | Iggy Peck and the Mysterious Mansion | Sofia Valdez and the Vanishing Vote | Ada Twist and the Disappearing Dogs | Aaron Slater and the Sneaky Snake
Questioneers: The Why Files Series: Exploring Flight! | All About Plants! | The Science of Baking | Bug Bonanza! | Rockin' Robots!
Questioneers: Ada Twist, Scientist Series: Ghost Busted | Show Me the Bunny | Ada Twist, Scientist: Brainstorm Book | 5-Minute Ada Twist, Scientist Stories
The Questioneers Big Project Book Series: Iggy Peck's Big Project Book for Amazing Architects | Rosie Revere's Big Project Book for Bold Engineers | Ada Twist's Big Project Book for Stellar Scientists | Sofia Valdez's Big Project Book for Awesome Activists | Aaron Slater's Big Project Book for Astonishing Artists
Praise for Aaron Slater, Illustrator (The Questioneers)
**STARRED REVIEW**
"In the illustration, a tableau of colorful mythological beings embodies Aaron's tale. . .Empathetic art and lyrical text blend for a touching and empowering tale." —Kirkus Reviews
"Celebrating differences is an ever-worthy theme. Even better, an endnote states that the rhymed narrative is printed in a dyslexic-friendly font." —Booklist