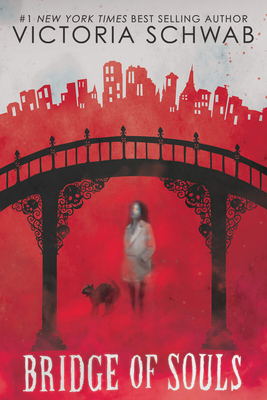 Bridge of Souls (City of Ghosts #3)
Publication Date:
March 2nd, 2021
Publisher:
Scholastic Press
The Book Nook
1 on hand, as of Dec 8 8:19pm
(Children)
On Our Shelves Now
Description
Victoria ("V. E.") Schwab, the #1 New York Times bestselling author of The Invisible Life of Addie LaRue, invites readers to haunted New Orleans in this third installment of her thrillingly spooky City of Ghosts series!
Where there are ghosts, Cassidy Blake follows . . .
Unless it's the other way around?
Cass thinks she might have this ghost-hunting thing down. After all, she and her ghost best friend, Jacob, have survived two haunted cities while traveling for her parents' TV show.
But nothing can prepare Cass for New Orleans, which wears all of its hauntings on its sleeve. In a city of ghost tours and tombs, raucous music and all kinds of magic, Cass could get lost in all the colorful, grisly local legends. And the city's biggest surprise is a foe Cass never expected to face: a servant of Death itself.
Praise for Bridge of Souls (City of Ghosts #3)
Praise for City of Ghosts:
"Spine tingling and page-turning, perfectly blending humor, heart, and adventure . . . I loved it!" -- Jennifer A. Nielsen, New York Times bestselling author of The False Prince
"This book has it all -- a ghost for a best friend, a city brimming with magic, and a brave girl discovering her strange power. A thrilling and chilling mystery that will have you counting the days until Cass's next adventure." -- Zoraida Córdova, author of the Brooklyn Brujas series
* "This atmospheric ghost story from Schwab (the Monsters of Verity duology) chills and charms while challenging readers to face their fears. Courageous, quick-witted Cassidy inspires, her relationship with Jacob is tender, and the thrilling conclusion is sure to gratify." -- Publishers Weekly, starred review
"Begs to be read in the dark of night." -- Kirkus Reviews
"Schwab paints an eerie portrait of haunted locales and her descriptions of the various ghosts and their terrible ends will send shivers down even the bravest readers' spines . . . This fast-paced, spooky ghost story filled with international adventure is sure to please horror enthusiasts and armchair travelers." -- School Library Journal
"Readers craving a spooky story that won't terrorize their dreams will do well with this. Genuine frights are offset by Cass' rapport with Jacob, which injects a steady stream of humor into the spirited, mysterious narrative. A polished, fast-paced read, sure to be popular . . . Schwab's YA fantasies are regularly best-sellers, and this has every reason to follow suit." -- Booklist
"[A] fresh spin on ghost tales. [Schwab] evokes the real-world Edinburgh with plenty of vivid sensory detail, and imbues the Veil and its inhabitants with spine-tingling spookiness and melancholy. The humor and warmth of the protagonists' strong bond and the support and safety of Cass's and Lara's loving families nicely balance the suspense of this supernatural adventure." -- The Horn Book
Praise for Tunnel of Bones (City of Ghosts #2):
"A hair-raising romp for middle-graders ready to dip their toes into horror." -- Booklist
"Schwab skillfully weaves her setting's atmosphere and history into the brisk adventure; the claustrophobic-feeling climactic scene set in Paris's infamous Catacombs is especially immersive . . . Will leave readers impatiently awaiting the next ghost-hunting expedition." -- The Horn Book
"Another spine-tinglingly satisfying trek into the world of the dead." -- Kirkus Reviews
Praise for City of Ghosts:
"Spine tingling and page-turning, perfectly blending humor, heart, and adventure . . . I loved it!" -- Jennifer A. Nielsen, New York Times bestselling author of The False Prince
"This book has it all -- a ghost for a best friend, a city brimming with magic, and a brave girl discovering her strange power. A thrilling and chilling mystery that will have you counting the days until Cass's next adventure." -- Zoraida Córdova, author of the Brooklyn Brujas series
* "This atmospheric ghost story from Schwab (the Monsters of Verity duology) chills and charms while challenging readers to face their fears. Courageous, quick-witted Cassidy inspires, her relationship with Jacob is tender, and the thrilling conclusion is sure to gratify." -- Publishers Weekly, starred review
"Begs to be read in the dark of night." -- Kirkus Reviews
"Schwab paints an eerie portrait of haunted locales and her descriptions of the various ghosts and their terrible ends will send shivers down even the bravest readers' spines . . . This fast-paced, spooky ghost story filled with international adventure is sure to please horror enthusiasts and armchair travelers." -- School Library Journal
"Readers craving a spooky story that won't terrorize their dreams will do well with this. Genuine frights are offset by Cass' rapport with Jacob, which injects a steady stream of humor into the spirited, mysterious narrative. A polished, fast-paced read, sure to be popular . . . Schwab's YA fantasies are regularly best-sellers, and this has every reason to follow suit." -- Booklist
"[A] fresh spin on ghost tales. [Schwab] evokes the real-world Edinburgh with plenty of vivid sensory detail, and imbues the Veil and its inhabitants with spine-tingling spookiness and melancholy. The humor and warmth of the protagonists' strong bond and the support and safety of Cass's and Lara's loving families nicely balance the suspense of this supernatural adventure." -- The Horn Book
Praise for Tunnel of Bones (City of Ghosts #2):
"A hair-raising romp for middle-graders ready to dip their toes into horror." -- Booklist
"Schwab skillfully weaves her setting's atmosphere and history into the brisk adventure; the claustrophobic-feeling climactic scene set in Paris's infamous Catacombs is especially immersive . . . Will leave readers impatiently awaiting the next ghost-hunting expedition." -- The Horn Book
"Another spine-tinglingly satisfying trek into the world of the dead." -- Kirkus Reviews