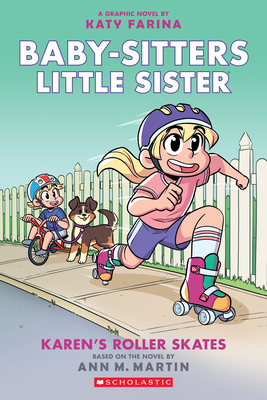 Karen's Roller Skates: A Graphic Novel (Baby-Sitters Little Sister #2) (Baby-Sitters Little Sister Graphix #2)
Publication Date:
July 7th, 2020
The Book Nook
1 on hand, as of Dec 8 8:19pm
(Children)
On Our Shelves Now
Description
Another graphic novel in this fresh and fun series spin-off of The Baby-sitters Club, featuring Kristy's little stepsister!
It's going to be a great weekend! Karen has new roller skates and is a very good skater. She's looking forward to trying some new tricks. But, oh no! Karen falls down and has to go to the hospital. Her wrist is broken!Karen is determined to get everyone she knows -- plus someone famous -- to sign her cast. It isn't going to be easy, but she won't give up until the job is done.
Praise for Karen's Roller Skates: A Graphic Novel (Baby-Sitters Little Sister #2) (Baby-Sitters Little Sister Graphix #2)
Praise for Karen's Witch: An instant New York Times and USA Today Bestseller"A great jumping-in point for younger readers or catnip for those wishing to soak up more time in Stoneybrook....Sure to bewitch fans new and old." -- Kirkus Reviews"The full-color illustrations are bright and detailed, and the story is fast paced and relatable." -- School Library Journal "Katy's work is so expressive and fun! The way she seamlessly blends high drama, big laughs, and tender family moments blows me away, and I couldn't be happier to welcome her to the club." -- Gale Galligan, adapter and illustrator of The Baby-sitters Club: Kristy's Big Day graphic novelPraise for The Baby-sitters Club graphic novels:"Crisp and spot on." -- Booklist"Unique and original." -- Voice of Youth Advocates
Praise for Karen's Witch: An instant New York Times and USA Today Bestseller"A great jumping-in point for younger readers or catnip for those wishing to soak up more time in Stoneybrook....Sure to bewitch fans new and old." -- Kirkus Reviews"The full-color illustrations are bright and detailed, and the story is fast paced and relatable." -- School Library Journal "Katy's work is so expressive and fun! The way she seamlessly blends high drama, big laughs, and tender family moments blows me away, and I couldn't be happier to welcome her to the club." -- Gale Galligan, adapter and illustrator of The Baby-sitters Club: Kristy's Big Day graphic novelPraise for The Baby-sitters Club graphic novels:"Crisp and spot on." -- Booklist"Unique and original." -- Voice of Youth Advocates