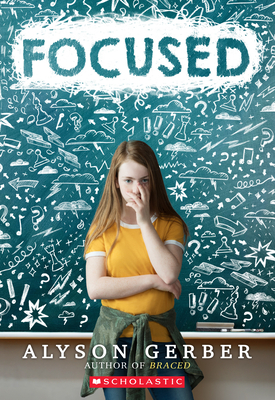 Focused
Publication Date:
January 5th, 2021
Publisher:
Scholastic Inc.
The Book Nook
7 on hand, as of Dec 8 8:19pm
(Children)
On Our Shelves Now
Description
Following Braced, which had three starred reviews, comes a story of a girl caught between her love of chess and her ADHD.
Clea can't control her thoughts. She knows she has to do her homework . . . but she gets distracted. She knows she can't just say whatever thought comes into her head . . . but sometimes she can't help herself. She knows she needs to focus . . . but how can she do that when the people around her are always chewing gum loudly or making other annoying noises?
It's starting to be a problem-not just in school, but when Clea's playing chess or just hanging out with her best friend. Other kids are starting to notice. When Clea fails one too many tests, her parents take her to be tested, and she finds out that she has ADHD, which means her attention is all over the place instead of where it needs to be.
Clea knows life can't continue the way it's been going. She's just not sure how you can fix a problem that's all in your head. But that's what she's going to have to do, to find a way to focus.
In a starred review, Booklist called Alyson Gerber's first novel, Braced, "a masterfully constructed and highly empathetic debut about a different kind of
acceptance." With Focused, she explores even further how, when life gives you a challenge, the best way to face it is with an open mind, an open heart, and the open support of the people around you.
Praise for Focused
Praise for Focused:
Kirkus Reviews Best Books of 2019
Today Show Best Kids' Books of 2019A Mighty Girl's 2019 Books of the YearAustin Public Library's Best Middle Grade Fiction of 2019The Children's Book Review Best Kids Books from 2019, So FarJunior Library Guild Gold Standard SelectionRhode Island Middle School Book Award NomineeOklahoma Library Association's Book Award NomineeMichigan Library Association's Book Award Nominee"A story full of charm, compassion, and empathy." -- TODAY* "An accurate and compassionate picture of growing up with ADHD is the icing on the cake of this well-told novel." -- Kirkus Reviews, starred review* "Author Gerber, who has ADHD herself, is able to compassionately and realistically convey the experience in this sweetly appealing story." -- Booklist, starred review* "This book includes middle school family drama, a little romance, and could be used for growth mindset lessons about being assertive and an effective communicator, identifying what individuals need to succeed, and learning to become a self-advocate." -- School Library Connection, Highly Recommended"Gerber handles this very detailed and informative look at a mind under the influence of ADHD with remarkable grace and clarity, highlighting both the difficulties and the lesser-known advantages." -- Bulletin of the Center for Children's Books"Readers with and without ADHD will relate to Clea's struggles." -- School Library Journal
Praise for Braced:
* "The author doesn't diminish Rachel's difficulties, but at heart her story is uplifting . . . Comparisons to Judy Blume's Deenie might be inevitable, but Rachel stands admirably on her own." -- Kirkus Reviews, starred review
* "A masterfully constructed and highly empathetic debut about a different kind of acceptance." -- Booklist, starred review
"Rachel's story is about more than straightening a spine; it's about expanding the human heart. Braced earns its place on the shelf with other titles promoting empathy and compassion." -- Kirby Larson, Newbery Honor-winning author of Hattie Big Sky and Audacity Jones Steals the Show
"Alyson Gerber's Braced is a rare gem of a novel: intimate and engrossing at once. Rachel is the best kind of character -- vibrant and brave, struggling and strong, and most of all impossible not to root for and relate to. A lovely and deep book that will get readers right in the heart." -- Corey Ann Haydu, author of Rules for Stealing Stars
"Braced is an honest, inspirational story about perseverance in the face of adversity. Readers will come away wishing they could be best friends with Rachel and believing that they, too, are stronger than they ever expected." -- Alison Cherry, author of The Classy Crooks Club
"Rachel gives us an inspiring look into coping with the challenge of bracing that many of us have trouble putting into words. Join Rachel as she discovers her voice in her brace! This book is an important read for all Curvy Girls and anyone who loves and supports one!" -- Leah Stoltz, founder and president, Curvy Girls Foundation
Praise for Focused:
Kirkus Reviews Best Books of 2019
Today Show Best Kids' Books of 2019A Mighty Girl's 2019 Books of the YearAustin Public Library's Best Middle Grade Fiction of 2019The Children's Book Review Best Kids Books from 2019, So FarJunior Library Guild Gold Standard SelectionRhode Island Middle School Book Award NomineeOklahoma Library Association's Book Award NomineeMichigan Library Association's Book Award Nominee"A story full of charm, compassion, and empathy." -- TODAY* "An accurate and compassionate picture of growing up with ADHD is the icing on the cake of this well-told novel." -- Kirkus Reviews, starred review* "Author Gerber, who has ADHD herself, is able to compassionately and realistically convey the experience in this sweetly appealing story." -- Booklist, starred review* "This book includes middle school family drama, a little romance, and could be used for growth mindset lessons about being assertive and an effective communicator, identifying what individuals need to succeed, and learning to become a self-advocate." -- School Library Connection, Highly Recommended"Gerber handles this very detailed and informative look at a mind under the influence of ADHD with remarkable grace and clarity, highlighting both the difficulties and the lesser-known advantages." -- Bulletin of the Center for Children's Books"Readers with and without ADHD will relate to Clea's struggles." -- School Library Journal
Praise for Braced:
* "The author doesn't diminish Rachel's difficulties, but at heart her story is uplifting . . . Comparisons to Judy Blume's Deenie might be inevitable, but Rachel stands admirably on her own." -- Kirkus Reviews, starred review
* "A masterfully constructed and highly empathetic debut about a different kind of acceptance." -- Booklist, starred review
"Rachel's story is about more than straightening a spine; it's about expanding the human heart. Braced earns its place on the shelf with other titles promoting empathy and compassion." -- Kirby Larson, Newbery Honor-winning author of Hattie Big Sky and Audacity Jones Steals the Show
"Alyson Gerber's Braced is a rare gem of a novel: intimate and engrossing at once. Rachel is the best kind of character -- vibrant and brave, struggling and strong, and most of all impossible not to root for and relate to. A lovely and deep book that will get readers right in the heart." -- Corey Ann Haydu, author of Rules for Stealing Stars
"Braced is an honest, inspirational story about perseverance in the face of adversity. Readers will come away wishing they could be best friends with Rachel and believing that they, too, are stronger than they ever expected." -- Alison Cherry, author of The Classy Crooks Club
"Rachel gives us an inspiring look into coping with the challenge of bracing that many of us have trouble putting into words. Join Rachel as she discovers her voice in her brace! This book is an important read for all Curvy Girls and anyone who loves and supports one!" -- Leah Stoltz, founder and president, Curvy Girls Foundation