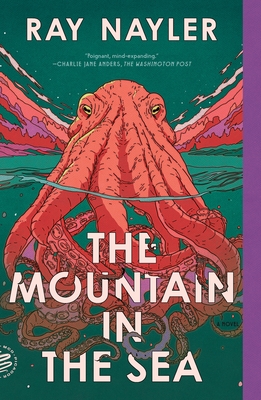 The Mountain in the Sea: A Novel
Publication Date:
May 30th, 2023
The Book Nook
4 on hand, as of Nov 30 7:20pm
(SciFi/Fantasy/Horror)
On Our Shelves Now
Description
*WINNER OF 2023 LOCUS AWARD FOR BEST FIRST NOVEL * FINALIST FOR THE NEBULA AWARD, and THE LOS ANGELES TIMES RAY BRADBURY PRIZE
"The Mountain in the Sea is a wildly original, gorgeously written, unputdownable gem of a novel. Ray Nayler is one of the most exciting new voices I've read in years."
—Blake Crouch, author of Upgrade and Dark Matter

Humankind discovers intelligent life in an octopus species with its own language and culture, and sets off a high-stakes global competition to dominate the future.
The transnational tech corporation DIANIMA has sealed off the remote Con Dao Archipelago, where a species of octopus has been discovered that may have developed its own language and culture. The marine biologist Dr. Ha Nguyen, who has spent her life researching cephalopod intelligence, will do anything for the chance to study them. She travels to the islands to join DIANIMA's team: a battle-scarred securityagent and the world's first (and possibly last) android.
The octopuses hold the key to unprecedented breakthroughs in extrahuman intelligence. As Dr. Nguyen struggles to communicate with the newly discovered species, forces larger than DIANIMA close in to seize the octopuses for themselves.
But no one has yet asked the octopuses what they think. Or what they might do about it.
A near-future thriller, a meditation on the nature of consciousness, and an eco-logical call to arms, Ray Nayler's dazzling literary debut The Mountain in the Sea is a mind-blowing dive into the treasure and wreckage of humankind's legacy.
Praise for The Mountain in the Sea: A Novel
"A novel that is alert, intelligent, open."
—Nicole Flattery, The New York Times
"[A] staggering book . . . In all my years as a science journalist, I could never quite get my head around the so-called hard problem of consciousness . . . It wasn't until I read Ray Nayler's The Mountain in the Sea that I truly understood it in my bones . . . [The Mountain in the Sea] has the clothes of a futuristic, eco-punk or cyberpunk thriller, the guts of a philosophy seminar and the soul of a religious tract."
—Phillip Ball, New Scientist
"Exciting, cerebral, and surprisingly compassionate, The Mountain in the Sea shines a light on the importance of our fragile ecosystem. Read this riveting novel if you love fresh takes on science fiction or you're just fascinated by the mysteries of nature."
—Apple Books Review
"Nayler's masterful debut combines fascinating science and well-wrought characters to deliver a deep dive into the nature of intelligent life . . . As entertaining as it is intellectually rigorous, this taut exploration of human—and inhuman—consciousness is a knockout."
—Publishers Weekly, starred review
"Less a science-fiction adventure than a meditation on consciousness and self-awareness, the limitations of human language, and the reasons for those limitations, the novel teaches as it engages." —Kirkus Reviews
"With a thriller heart and a sci-fi head, The Mountain in the Sea delivers a spooky, smart read. Artificial intelligence, nascent animal sentience, murderous flying drones: like the best of Gibson or Atwood, it brings all of the plot without forgetting the bigger questions of consciousness, ecocide, and scientific progress. Truly a one-of-a-kind story."
—Kawai Strong Washburn, author of Sharks in the Time of Saviors
"I came to The Mountain in the Sea for the cephalopods (I love cephalopods), but I stayed for the fascinating meditation on consciousness and personhood. I loved this book."
—Ann Leckie, author of Ancillary Justice
"Ray Nayler has taken on the challenge of a near future that's less certain than ever and made it gleam—not only with computer terminals and sentry drones (we love those, sure) but also polished coral and cephalopod eyes. From these pages, I got the sense of William Gibson, and Paolo Bacigalupi—and Donna Haraway, and Octavia Butler. This is a planetary science fiction and a profound new kind of adventure, featuring—among so many other wonders—the best villain I've read in years. In the end, the enormity and possibility of this novel's vision shook tears loose. What a ride; what a feeling; what a future."
—Robin Sloan, author of Mr. Penumbra's 24-Hour Bookstore and Sourdough
"The Mountain in the Sea is a first-rate speculative thriller, by turns fascinating, brutal, powerful, and redemptive. The book poses profound questions about artificial and nonhuman intelligence, and its answers are tantalizing and provocative."
—Jeff VanderMeer, author of Annihilation
"I loved this novel's brain and heart, its hidden traps, sheer propulsion, ingenious world-building, and purity of commitment to luminous ideas."
—David Mitchell, author of Cloud Atlas
"The Mountain in the Sea is a wildly original, gorgeously written, unputdownable gem of a novel. Ray Nayler is one of the most exciting new voices I've read in years."
—Blake Crouch, author of Upgrade and Dark Matter