Preorder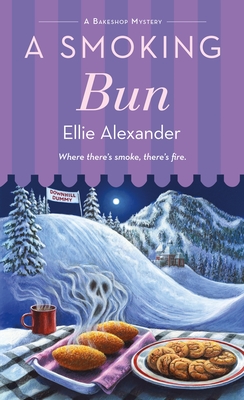 A Smoking Bun: A Bakeshop Mystery
Publication Date:
February 20th, 2024
Publisher:
St. Martin's Paperbacks
Description
Another delicious installment in the Bakeshop Series set in Ashland, OR!
The mountains are calling in Ashland, Oregon, where pastry chef turned amateur sleuth, Jules Capshaw, is baking up a bevy of spiced curry buns and chai cookies for a moonlit snowshoe tour. Ramiro's family is visiting from Spain and Jules can't wait to take them up to her beloved Mount A with its charming and rustic lodge, backcountry trails, and star-filled skies that stretch for miles. Their winter wonderland adventure is nothing short of magical and the merry party opts to return to the slope the next day for the Downhill Dummy.
The annual competition is a favorite amongst snow lovers. Contestants strap makeshift dummies to skis and send them hurling down a death-defying ski jump in hopes of catching big air. The team at Torte is in the mix this year with their own replica of a tiered cake and a baker who closely resembles their fearless leader. It's a fun and festive atmosphere as dummies sail past the crowd to huge cheers and applause. Until one of the dummies takes a deadly detour and lands atop Fitz Baskin.
Fitz is a guide on the mountain and his icy dealings have made for frosty relationships with everyone he encounters. Suddenly there are more suspects than snowdrifts as Jules dives into the investigation. She unearths a web of secrets and motives that threaten to shake the rustic mountain lodge to its core. Can she catch the killer before they strike again, or will the truth be buried forever under fluffy layers of fresh snow?
Praise for A Smoking Bun: A Bakeshop Mystery
Praise for the Bakeshop Mysteries:
"This delectable series transports readers to Ashland, Oregon... I highly recommend this series to readers who enjoy clever plots, likable characters, and good food." —Mystery Scene on A Batter of Life and Death
"Alexander's charming series offers descriptions of enticingly fattening foods, a tour of southern Oregon, and, incidentally, a mystery that provides enough riddles to keep you guessing without ever upstaging the main event." —Kirkus Reviews on Till Death Do Us Tart
"A Batter of Life and Death is a delightful cozy mystery that will keep you turning pages to see what Jules is going to get into next.... Grab a few napkins, because you'll be drooling all over the pages as you read some of the delicious-sounding recipes these chefs are cooking up." —Fresh Fiction
"This debut culinary mystery is a light soufflé of a book (with recipes) that makes a perfect mix for fans of Jenna McKinley, Leslie Budewitz, or Jessica Beck." —Library Journal on Meet Your Baker