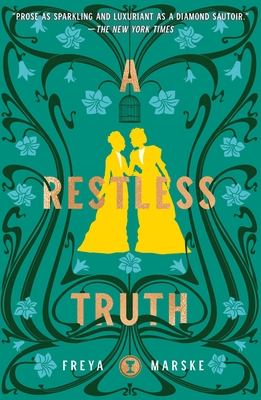 A Restless Truth (The Last Binding #2)
Publication Date:
October 3rd, 2023
The Book Nook
3 on hand, as of Nov 30 7:20pm
(Romance)
On Our Shelves Now
A sexy, mysterious romp at sea! It was exciting to be reacquainted with some characters fromA Marvellous Lightand to meet some phenomenal new characters. I had a blast reading this!
November 2022 Indie Next List
Description
"A breathtaking romp of a plot, prose as sparkling and luxuriant as a diamond sautoir, and at the heart of it all a sense of wondrous possibility."—The New York Times
Now an International Bestseller, a New York Times Editors' Choice Pick​, an Indie Next pick, ​a Bookpage Best Book of the Year, and a LibraryReads pick—with three starred reviews!
A Restless Truth is the second entry in Freya Marske's beloved, award-winning Last Binding trilogy, the queer historical fantasy series that began with A Marvellous Light.
Magic! Murder! Shipboard romance!
Maud Blyth has always longed for adventure. She expected plenty of it when she volunteered to serve as an old lady's companion on an ocean liner, in order to help her beloved older brother unravel a magical conspiracy that began generations ago.
What she didn't expect was for the old lady in question to turn up dead on the first day of the voyage. Now she has to deal with a dead body, a disrespectful parrot, and the lovely, dangerously outrageous Violet Debenham, who's also returning home to England. Violet is everything that Maud has been trained to distrust yet can't help but desire: a magician, an actress, and a magnet for scandal.
Surrounded by the open sea and a ship full of suspects, Maud and Violet must first drop the masks that they've both learned to wear before they can unmask a murderer and somehow get their hands on a magical object worth killing for—without ending up dead in the water themselves.
Praise for A Restless Truth (The Last Binding #2)
An International Bestseller and a New York Times Editors' Choice Pick
"A breathtaking romp of a plot, prose as sparkling and luxuriant as a diamond sautoir, and at the heart of it all a sense of wondrous possibility I wish I could go back and offer to my younger self. The magic system, the time pressure, the sumptuous heat of it all ― Marske makes her ship a crucible, leaving the reader with a lovely, golden glow to light this waning season."―The New York Times, Editor's Choice
"Marske is simply superb at her chosen genres, and sustains the balance between Maud's warm honesty and Violet's glittering viciousness to tremendous effect. Sexy, earnest and very funny, it's also not afraid to twist a knife."—The New York Times
"A delightful, twisty, endlessly charming romp. I would travel anywhere with these characters."—Grace D. Li, New York Times-bestselling author of Portrait of a Thief
"A Restless Truth may not be romance, but it has some of the steamiest sapphic sex scenes in popular fiction."—Today
"Combining the greatest elements of mystery, fantasy, and romance, this book is a true soul-fluttering delight."—Buzzfeed
"From the staggeringly excellent world-building to the fleshed-out and lovable characters, A Restless Truth is a delectable sapphic fantasy-adventure on the high seas. Maud and Violet stole my heart from page one. Never has the term 'to ship' been more appropriate."—Megan Bannen, author of The Undertaking of Hart and Mercy
"In this sparkling continuation of A Marvellous Light, we get more magical puzzles, more intrigue and trickery, and more romance, this time all packaged into a transatlantic steam liner with extra opportunities for mischief, mystery, and discovery. The perfect book if you're looking for oceanbound queer shenanigans, suspense in a coherently magical world, or opulent historical fiction!"—Malka Older, author of The Mimicking of Known Successes
"Marske continues the beloved journey from the first book with an almost entirely new cast of characters and a new hot-and-steamy queer romance. . . . reforms the ingénue-falling-for-the-experienced-cad trope with feminist flare and a sex-positive attitude. . . . New magical insights and charming whimsy. Fans will be delighted."—Booklist, starred review
"There's murder, mystery, and magic on the high seas in Marske's historical fantasy romp that follows on the heels of last year's A Marvellous Light. . . . Highly recommended for lovers of urban fantasy that's mixed with wit, danger, and romance."—Library Journal, starred review
"Stunning, sensual. . . . A thrilling mystery and a lush historical fantasy that will leave readers breathless—both from its exciting plot twists and its captivating romance."—BookPage, starred review
"Maud Blyth takes center stage in the charming follow-up to her brother Robin's story, A Marvellous Light. . . . Makes for intelligent and pleasant reading over a cup of tea."—Publishers Weekly
"Insightful, funny, and unexpected, A Restless Truth is a stellar successor that ably continues the mystery begun in A Marvellous Light and leaves the reader eager for the series conclusion."–Tor.com
"A magical murder mystery. . . . A twisty match of wits leavened with society intrigue, skullduggery, and more than a little spy-fiction cloak and dagger action. There are dueling conspiracies, scandalous secrets, and questionable loyalties. But it's sapphic romance too, with erotica that will leave you checking over your shoulder to be sure you have some privacy."—Geekly Inc.
"If I had the ability to make everyone read one trilogy of books, it would be The Last Binding, Freya Marske's phenomenal (and extremely spicy) fantasy series. No one intersperses gleeful, squeal-inducing sexual tension with tender and painfully human interactions between characters quite like Marske does. Think of your favorite romance trope. Is it rivals to lovers? Enemies to something more? Sunshine and grump? Forced proximity? Chances are you'll find it in one of these books."—Polygon
"Maud Blyth shares a similar aversion to lying as Knives Out's would-be murderer Marta . . . . Pair Maud with Violet Debenham, an actress and magician who can't fathom making herself vulnerable enough to be truthful with anyone, and their romance unfolds along the same breathless plot beats as solving a murder that could shift the balance of all the magic in England."—Paste
Praise for A Marvellous Light
"Truly a scrumptious treat of a book, like a fancy tea all laid out with silver spoons and floral-painted cups."—NPR
"The prose is sublime, the world-building top-notch, and the magic system is fascinating and unique. But what made me the happiest is how delightfully queer this story is. Robin and Edward have my whole heart, and I adored watching their relationship blossom."—TJ Klune, New York Times and USA Today bestselling author of The House in the Cerulean Sea

"Mystery! Magic! Murder! Long looks full of yearning! This book is a confection, both marvelous and light."—Alix E. Harrow, author of The Once and Future Witches
"A delightful book, with richly developed characters rooted in family dynamics and period flavor. It manages the remarkable trick of introducing a trilogy while being satisfying in its own right, leaving plenty to explore in future volumes while completing a complex story in this one."—The New York Times
"Perfect."—Jenn Lyons, author of The Ruin of Kings
"Marske is an extraordinary talent who writes compelling characters, entertainingly awful families, and love stories like nobody else."—Everina Maxwell, author of Winter's Orbit
"A magical world of exquisite refinement, where peril skims beneath manners, interiors bespeak both faultless taste and deadly secrets, and the sexual tension crescendos until it literally makes sparks fly. A dazzling debut."—Shelley Parker-Chan, author of She Who Became the Sun
"If you ever wished Downton Abbey was sharper-edged and full of magic, this is the book for you."—Kat Howard, author of An Unkindness of Magicians

"Sensual erotic scenes, an intriguing magic system, and a puzzling mystery combine to make this novel a wonder. Fans of C.L. Polk's Witchmark, period queer novels, and creative fantasy will all clamor for more."—Publishers Weekly, *Starred Review*
"Marske's debut is a delightful blend of Edwardian fantasy and romance, with enough twists and questions to have readers clamoring for the next in the planned series."—Library Journal, *Starred Review*
"This trilogy opener is sure to capture the hearts of romance and fantasy readers alike."—Booklist, *Starred Review*

"Prepare to fall in love."—Emily Tesh, author of Some Desperate Glory and Silver in the Wood
"A charming, lovingly crafted adventure."—A. K. Larkwood, author of The Unspoken Name
"Everything you could ever want from a book—beautiful descriptions, expertly woven worldbuilding, queer kissing, sexual tension in a library . . . Brilliant on every level."—Alexandra Rowland, author of A Taste of Gold and Iron

"This romantic fantasy is full of fascinating world-building, layers upon layers of delicious magic, and characters I adored. I want to spend so much more time in this alternate England's enchanted libraries and sinister hedge mazes!"—Stephanie Burgis, author of Snowspelled
"Heralds a strong new voice in science fiction and fantasy."—Sam Hawke, author of City of Lies