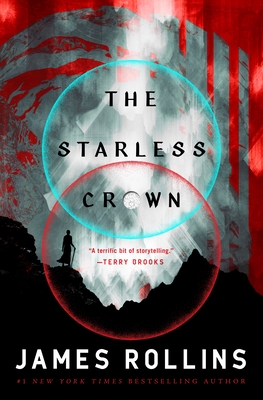 The Starless Crown (Moonfall #1)
Publication Date:
January 10th, 2023
The Book Nook
4 on hand, as of Nov 30 6:21pm
(SciFi/Fantasy/Horror)
On Our Shelves Now
A captivating page-turner of impressive world-building and layered characters pits religious extremism against science; morally gray heroes against youthful innocence; and a mismatched squad trying to stop the end of their world.
January 2022 Indie Next List
Description
An alliance embarks on a dangerous journey to uncover the secrets of the distant past and save their world in this captivating, deeply visionary adventure from #1 New York Times bestselling thriller-master James Rollins.
A gifted student foretells an apocalypse. Her reward is a sentence of death.
Fleeing into the unknown she is drawn into a team of outcasts:
A broken soldier, who once again takes up the weapons he's forbidden to wield and carves a trail back home.
A drunken prince, who steps out from his beloved brother's shadow and claims a purpose of his own.
An imprisoned thief, who escapes the crushing dark and discovers a gleaming artifact - one that will ignite a power struggle across the globe.
On the run, hunted by enemies old and new, they must learn to trust each other in order to survive in a world evolved in strange, beautiful, and deadly ways, and uncover ancient secrets that hold the key to their salvation.
But with each passing moment, doom draws closer.
WHO WILL CLAIM THE STARLESS CROWN?
Praise for The Starless Crown (Moonfall #1)
"This talented storyteller moves smoothly from Thriller to Fantasy. A terrific bit of storytelling."—Terry Brooks, New York Times bestselling author of the Shannara novels
"When I'm sitting around the campfire, hearing of heroic deeds and derring-do, I want James Rollins to be standing across from me spinning the yarn. He grabs you at the beginning and doesn't let go, weaving a believably unbelievable world of magic and danger that is both terrifying and beautiful, cruel and tender. A masterful storyteller across the genres, James is at his best in The Starless Crown."—R. A. Salvatore, New York Times bestselling author of The DemonWars Saga
"The Starless Crown is a bold and brilliant epic fantasy by a master storyteller! Wonderfully complex characters, shifting points-of-view, unparalleled world-building, and a great sense of fun make this a certified triumph!"—Jonathan Maberry, New York Times bestselling author of Relentless and Kagen the Damned
"An action-filled fantasy quest that is gripping and thought-provoking. The high stakes and smooth writing made it a page turner.... As in his thrillers, he includes science, historical secrets, and suspense."—Mystery & Suspense Magazine
"An interesting blend of science and magic, flying ships and prophetic gods, propel this fantasy into epic territories."—Library Journal
"Fun…the fantastical creatures and landscapes are imaginative.... Readers looking for plot-driven fantasy will enjoy the action."—Publishers Weekly
Praise for James Rollins:
"Rollins is what you might wind up with if you tossed Michael Crichton and Dan Brown into a particle accelerator together."—The New York Times
"Adventurous and enormously engrossing."—NPR
"After Crichton passed away in 2008 he clearly passed the baton to James Rollins, who like Crichton, is a renaissance man."—Huffington Post