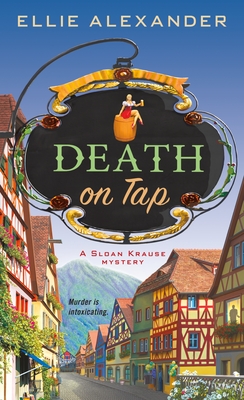 Death on Tap: A Mystery (A Sloan Krause Mystery #1)
Publication Date:
August 28th, 2018
Publisher:
St. Martin's Paperbacks
Usually Ships in 1 to 5 Days
Description
From Ellie Alexander, beloved author of the Bakeshop Mysteries, comes the first in an intoxicating new series: Death on Tap.
When Sloan Krause walks in on her husband, Mac, screwing the barmaid, she gives him the boot. Sloan has spent her life in Leavenworth, Washington becoming an expert in brewing craft beer, and she doesn't have time to be held back by her soon-to-be ex-husband. She decides to strike out on her own, breaking away from the Krause family brewery, and goes to work for Nitro, the hip new nano-brewery in the Bavarian-themed town. Nitro's owner, brewmaster Garrett Strong, has the brew-world abuzz with his newest recipe, "Pucker-Up IPA." This place is the new cool place in town, and Mac can't help but be green with envy at their success.
But just as Sloan is settling in to her new gig, she finds one of Nitro's competitors dead in the fermenting tub, clutching the secret recipe for the IPA. When Mac is arrested, Sloan knows that her ex might be a cheater, but a murderer? No way. Danger is brewing in Beervaria and suddenly Sloan is on the case.
Praise for Death on Tap: A Mystery (A Sloan Krause Mystery #1)
"A charming new series featuring Sloan Krause, a clever protagonist and a talented brewer whose knowledge of the science and art of brewing beer is both fascinating and fun. The cozy village and the quirky characters who inhabit it are a delight, and the intriguing mystery will keep readers enthralled to the very end." —Kate Carlisle, New York Times bestselling author of the Bibliophile and the Fixer-Upper Mysteries
"Ellie Alexander's prose bubbles like the craft beers her protagonist Sloan Krause brews—a sparkling start to a new series" —Sheila Connolly, New York Times bestselling author of the Orchard Mysteries and the County Cork Mysteries
"In Death on Tap, Ellie Alexander brews up a tasty concoction containing a charming setting, sympathetic characters, and a compelling heroine that kept me turning pages way past my bedtime."—Barbara Ross, author of the Maine Clambake Mysteries
"The mountain village of Leavenworth, Washington is hopping and trouble is brewing in this first in a new series by Ellie Alexander. Smooth yet yeasty, with a strong finish, like Sloan Krause's best brew, Death on Tap is an entertaining sip of the world of brew pubs and tourist towns. Sloan, a foster child-turned chef, brewer, and mother, is an intriguing protagonist. Pour me another!" —Leslie Budewitz, two-time Agatha Award winning author of the Food Lovers' Village Mysteries
"A 'hopping' good cozy mystery, overflowing with yeasty details about beer and brewing. Sloan may be torn between her cheating husband and her handsome new boss, but readers will enjoy listening to local gossip and tracking a killer along with her in the charming German-style "Beervaria" setting of Leavenworth, Washington." —Meg Macy, author of Bearly Departed
"Hoist a stein to Ellie Alexander's delightful new series! Brewmaster Sloan Krause is the perfect cozy protagonist: vulnerable enough to keep her heart guarded, yet capable enough to brew ales with the big boys, whip up beer-inspired treats, and of course, solve a murder." —Cindy Brown, Agatha Award-Nominated Author of the Ivy Meadows mysteries