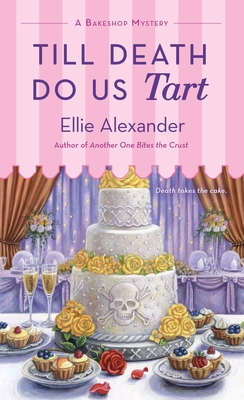 Till Death Do Us Tart: A Bakeshop Mystery
Publication Date:
June 26th, 2018
Publisher:
St. Martin's Paperbacks
Usually Ships in 1 to 5 Days
Description
Torte—the small-town bakeshop no one can resist—is hosting a midsummer night's wedding . . . where merry-making and murder are served up in equal measure. Till Death Do Us Tart is Ellie Alexander's eighth delectable novel in the Bakeshop mystery series.
Jules Capshaw has too much on her plate—and she's feeling the pinch: the whole town of Ashland, Oregon, is in on the surprise Elizabethan-themed wedding she's planning for her mom and soon-to-be stepdad. But is her secret scheme half-baked? She's hiding racks overflowing with sweet treats while Torte is topsy-turvy with a major remodel and the return of Jules's estranged husband, Carlos. And until now, Jules had no clue about the bitter family feud that has her friend Lance frazzled and suspicious. But when a party crasher takes someone out with a serving of poisoned wine and Jules discovers the deadly cup was intended for her, it's time to turn the tables on a killer.
The Bakeshop mysteries are:
"Delectable."—Portland Book Review

"Delicious."—RT Book Reviews
"Marvelous."—Fresh Fiction
Praise for Till Death Do Us Tart: A Bakeshop Mystery
"Alexander's charming series offers descriptions of enticingly fattening foods, a tour of southern Oregon, and, incidentally, a mystery that provides enough riddles to keep you guessing without ever upstaging the main event."—Kirkus Reviews