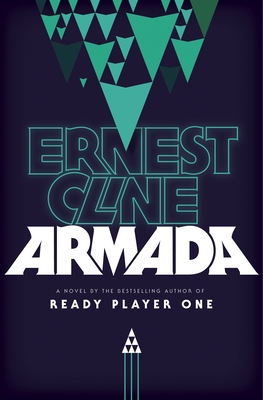 Armada: A Novel
Publication Date:
July 14th, 2015
Publisher:
Ballantine Books
The Book Nook
1 on hand, as of Dec 3 8:19pm
(General Fiction)
On Our Shelves Now
This new work from Cline definitely will not disappoint the myriad fans of Ready Player One. On the contrary, it is another magical, nerdy romp through science fiction and fantasy pop culture where the thing that happens to the hero is exactly the thing every sci-fi lover secretly -- or not so secretly -- dreams will happen to them! A successful screenwriter, Cline fills this tale with super-cool action, relatable characters, and inventive plots. I loved it!
August 2015 Indie Next List
Description
NEW YORK TIMES BESTSELLER • A rollicking alien invasion thriller that embraces and subverts science-fiction conventions, from the author of the worldwide phenomenon Ready Player One 

"Exciting . . . mixes Star Wars, The Last Starfighter, Independence Day, and a really gnarly round of Space Invaders."—USA Today • "A thrilling coming of age story."—Entertainment Weekly
Zack Lightman has never much cared for reality. He vastly prefers the countless science-fiction movies, books, and videogames he's spent his life consuming. And too often, he catches himself wishing that some fantastic, impossible, world-altering event could arrive to whisk him off on a grand spacefaring adventure. 
So when he sees the flying saucer, he's sure his years of escapism have finally tipped over into madness. 
Especially because the alien ship he's staring at is straight out of his favorite videogame, a flight simulator callled Armada—in which gamers just happen to be protecting Earth from alien invaders. 
As impossible as it seems, what Zack's seeing is all too real. And it's just the first in a blur of revlations that will force him to question everything he thought he knew about Earth's history, its future, even his own life--and to play the hero for real, with humanity's life in the balance. 
But even through the terror and exhilaration, he can't help thinking: Doesn't something about this scenario feel a little bit like . . .  well . . . fiction? 
At once reinventing and paying homage to science-fiction classics, Armada is a rollicking, surprising thriller, a coming-of-age adventure, and an alien invasion tale like nothing you've ever read before.
Praise for Armada: A Novel
"Nerd-gasmic . . . another science fiction tale with a Comic-Con's worth of pop-culture shout-outs."—Rolling Stone

"An amazing novel [that] proves Cline has the ability to blend popular culture with exciting stories that appeal to everyone."—Associated Press

"A fantastic second novel . . . fans of Ready Player One, it is time to rejoice."—HuffPost
"A joyous, rollicking read . . . will garner Cline an even larger group of fans than the formidable crew he's already assembled."—Boing Boing
 
"A great romp . . . Cline (ever the fanboy) is both reverent of and referential to the books and movies and games of his childhood."—Mother Jones

"Video games come to life in this witty, extraterrestrial thriller."—New York Post
"Built like a summer blockbuster . . . Cline recombines the DNA of Ender's Game, Star Wars, The Last Starfighter, and old-school arcade games like Asteroids into something that's both familiar and unpredictable. It's a mutant homage to sci-fi tropes past."—Gawker
"Hugely entertaining…a paean to the videogames of a bygone era, and like Ready Player One it is a tremendous amount of fun for anyone who remembers that time and played those games."—George R.R. Martin, New York Times bestselling author of Game of Thrones

"A novel so fun, you'll want to reboot it and read it again . . . the best novel this gamer geek has read in a long, long time."—Hugh Howey, New York Times bestselling author of Wool
"Those conspiracies you imagined when you were fourteen turn out to be true in this masterful tale of Earth's desperate struggle against a powerful alien foe."—Andy Weir, New York Times bestselling author of The Martian
"Armada proves Ernie Cline is the modern master of wish fulfillment literature—and of reminding us to be careful what we wish for."—John Scalzi, New York Times bestselling author of Old Man's War
"With another winning teen protagonist in Zach, Cline mines the nostalgia and geek spheres just as successfully as he did in his acclaimed debut, Ready Player One. The works that obviously influenced the story line, such as Orson Scott Card's Ender's Game and the films The Last Starfighter and Star Wars, feel like homages rather than borrowings- a rap artist sampling the best beats our there to create an irresistible jam."—Library Journal (starred review)
"Cline once again brings crackling humor and fanboy knowledge to a zesty, crowd-pleasing, countdown-clock, save-the-planet tale featuring an unlikely hero, adrenaline-pumping action, gawky romance, and touching family moments. . . . Cline's sly, mind-twisting premise and energetically depicted and electrifying high-tech battles make for smart, frenetic, and satisfying entertainment."—Booklist (starred review)