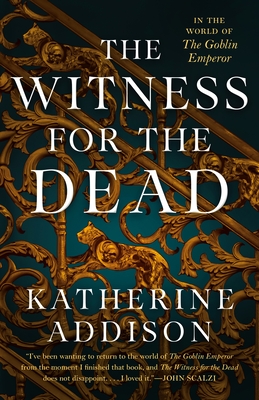 The Witness for the Dead: Book One of the Cemeteries of Amalo Trilogy (The Chronicles of Osreth #1)
Publication Date:
June 22nd, 2021
The Book Nook
1 on hand, as of Dec 3 8:19pm
(SciFi/Fantasy/Horror)
On Our Shelves Now
Description
"At once intimate and literally operatic, it's everything I love about Katherine Addison's writing, in ways I didn't know to expect. I loved it." —John Scalzi
Katherine Addison returns to the glittering world she created for her beloved novel, The Goblin Emperor, in this stand-alone sequel

Locus Award Finalist and Mythopoeic Award Finalist!

When the young half-goblin emperor Maia sought to learn who had set the bombs that killed his father and half-brothers, he turned to an obscure resident of his father's Court, a Prelate of Ulis and a Witness for the Dead. Thara Celehar found the truth, though it did him no good to discover it. He lost his place as a retainer of his cousin the former Empress, and made far too many enemies among the many factions vying for power in the new Court. The favor of the Emperor is a dangerous coin.
Now Celehar lives in the city of Amalo, far from the Court though not exactly in exile. He has not escaped from politics, but his position gives him the ability to serve the common people of the city, which is his preference. He lives modestly, but his decency and fundamental honesty will not permit him to live quietly. As a Witness for the Dead, he can, sometimes, speak to the recently dead: see the last thing they saw, know the last thought they had, experience the last thing they felt. It is his duty use that ability to resolve disputes, to ascertain the intent of the dead, to find the killers of the murdered.
Celehar's skills now lead him out of the quiet and into a morass of treachery, murder, and injustice. No matter his own background with the imperial house, Celehar will stand with the commoners, and possibly find a light in the darkness.
Katherine Addison has created a fantastic world for these books – wide and deep and true.
Within THE CHRONICLES OF OSRETH
The Goblin Emperor
The Cemeteries of Amalo trilogy
The Witness for the Dead
The Grief of Stones
The Tomb of Dragons
Praise for The Witness for the Dead: Book One of the Cemeteries of Amalo Trilogy (The Chronicles of Osreth #1)
"I've been wanting to return to the world of The Goblin Emperor from the moment I finished that book, and The Witness For the Dead does not disappoint. At once intimate and literally operatic, it's everything I love about Katherine Addison's writing, in ways I didn't know to expect. I loved it." — John Scalzi
"The follow-up to the acclaimed The Goblin Emperor brings back a favorite character and expands the elaborate world Addison has created. Fans of the first book—and new readers—will find this novel delightful and immersive" — Library Journal
Praise for The Goblin Emperor
"The only thing wrong with The Goblin Emperor was that it was, for a long time, a stand-alone. But now there's a sequel, The Witness for the Dead — so if you love the world Katherine Addison has created, you've got a way back to it."—NPR, Best SFF of the Past Decade feature
"Striking."—The New York Times
"A remarkably hopeful story of a single decent person doing his best in a difficult situation." –io9
"Ambitious and meticulously executed worldbuilding brings an animated dazzle to this exceptional assemblage of character studies and complex encounter."– Publishers Weekly

"A spellbinding and genuinely affecting drama. Unreservedly recommended." –Kirkus