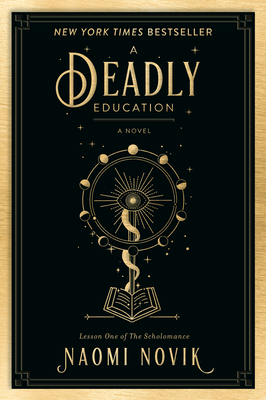 A Deadly Education: A Novel (The Scholomance #1)
Publication Date:
May 4th, 2021
The Book Nook
1 on hand, as of Dec 8 8:19pm
(SciFi/Fantasy/Horror)
On Our Shelves Now
A Deadly Education takes a fresh stab at the magical boarding school setting in this inventive and compelling new novel from Naomi Novik. Galadriel Higgins is a student at Scholomance, a dangerous institution full of things that don't just go bump in the night, they tend to maim and murder the students. In such a perilous place, it's important to have friends. Unfortunately, Galadriel is a sarcastic misanthrope with a potent affinity toward mass destruction and death, but she might have to start relying on her non-magical charms to get out of this school alive. With a wink to all your favorite series, A Deadly Education is guaranteed to enthrall!
October 2020 Indie Next List
Description
NEW YORK TIMES BESTSELLER • From the author of Uprooted and Spinning Silver comes the first book of the Scholomance trilogy, the story of an unwilling dark sorceress who is destined to rewrite the rules of magic.
FINALIST FOR THE LODESTAR AWARD • "The dark school of magic I've been waiting for."—Katherine Arden, author of the Winternight Trilogy
I decided that Orion Lake needed to die after the second time he saved my life.
Everyone loves Orion Lake. Everyone else, that is. Far as I'm concerned, he can keep his flashy combat magic to himself. I'm not joining his pack of adoring fans.
I don't need help surviving the Scholomance, even if they do. Forget the hordes of monsters and cursed artifacts, I'm probably the most dangerous thing in the place. Just give me a chance and I'll level mountains and kill untold millions, make myself the dark queen of the world.
At least, that's what the world expects. Most of the other students in here would be delighted if Orion killed me like one more evil thing that's crawled out of the drains. Sometimes I think they want me to turn into the evil witch they assume I am. The school certainly does.
But the Scholomance isn't getting what it wants from me. And neither is Orion Lake. I may not be anyone's idea of the shining hero, but I'm going to make it out of this place alive, and I'm not going to slaughter thousands to do it, either.
Although I'm giving serious consideration to just one.
With flawless mastery, Naomi Novik creates a school bursting with magic like you've never seen before, and a heroine for the ages—a character so sharply realized and so richly nuanced that she will live on in hearts and minds for generations to come.

The magic of the Scholomance trilogy continues in The Last Graduate and The Golden Enclaves
"The can't-miss fantasy of fall 2020, a brutal coming-of-power story steeped in the aesthetics of dark academia. . . . A Deadly Education will cement Naomi Novik's place as one of the greatest and most versatile fantasy writers of our time."—BookPage (starred review)
"A must-read . . . Novik puts a refreshingly dark, adult spin on the magical boarding school. . . . Readers will delight in the push-and-pull of El and Orion's relationship, the fantastically detailed world, the clever magic system, and the matter-of-fact diversity of the student body."—Publishers Weekly (starred review)
Praise for A Deadly Education: A Novel (The Scholomance #1)
"I loved this book. It's such a nail-biter, it's funny, it's thought-provoking, and it's such a good read."—BuzzFeed
"Novik deliciously undoes expectations about magic schools, destined heroes, and family legacies. A gorgeous book about monsters and monstrousness, chockablock with action, cleverness, and wit."—Holly Black, #1 New York Times bestselling author
"At the Scholomance, monsters are everywhere and the breakfast might kill you, but the wonderful cast of characters will grab ahold of your heart and you'll never want to leave this deadly school. Naomi Novik skillfully combines sharp humor with layers of imagination to build a fantasy that delights on every level. I loved this brilliant book."—Stephanie Garber, #1 New York Times bestselling author of the Caraval series

"Eyeball-meltingly brilliant . . . Novik is, quite simply, a genius."—Kiersten White, New York Times bestselling author of And I Darken

"Hilarious and wild! Take any fictional magic school, make it as over-the-top dangerous as possible, and populate it with a bunch of snarky teenagers; the result is pure batshit fun."—N. K. Jemisin, New York Times bestselling author of The City We Became
"A Deadly Education is a nightmare from which I never wished to wake: savage, inventive, and soulful. Novik grasps the totems of childhood that linger in your mind—schools of magic, curses, cutthroat classmates, monsters—only to twist them into a grand new tale that'll make you believe in magic again."—Pierce Brown, New York Times bestselling author of Dark Age

"A Deadly Education is a book that lives up to its gobsmacker of an opening sentence and follows right through to its shocker of an ending that promises more to come. Naomi Novik is relentlessly innovative and entertaining."—Terry Brooks, New York Times bestselling author of The Last Druid
"Friendship in spite of itself; danger that doesn't quit—what a wildly magical ride!"—Tamora Pierce, New York Times bestselling author of Tempests and Slaughter
"The magic and mystery of this chillingly lovely novel will appeal to both YA and adult fans of J. K. Rowling's Harry Potter books. . . . An unresolved ending leaves readers eager for the next installment."—Library Journal (starred review)