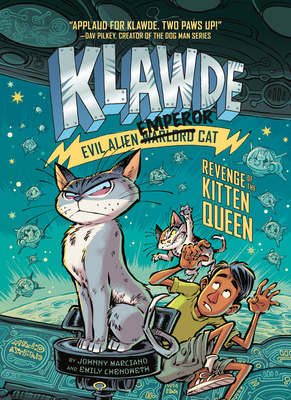 Klawde: Evil Alien Warlord Cat: Revenge of the Kitten Queen #6
Publication Date:
August 31st, 2021
Publisher:
Penguin Workshop
The Book Nook
2 on hand, as of Dec 8 8:19pm
(Children)
On Our Shelves Now
Description
"Applaud for KLAWDE. Two paws up!"--Dav Pilkey, creator of the Dog Man series.
"Funny, savage, and brilliant, Klawde is the pet I wish I had."--Max Brallier, New York Times Bestselling author of The Last Kids on Earth.

Klawde is not your basic cat. He's an emperor from another planet, exiled to Earth. He's cruel. He's cunning. He's brilliant... and he's also Raj Banerjee's best friend.
In book six of the Klawde series our feline warlord has begun his reign as Emperor of the Universe! His headquarters? The litterbox command center in the Banerjee family basement. But be careful what you wish for--as Klawde finds out, even the lord of all living matter has to follow the rules, even if they're designed to squelch evil dreams. What's more, plots to otherthrow him are rampant, and Klawde needs allies. Who can he turn to? Barx and the space rangers of the Dog Star Galaxy? (Hairball.) Ffangg and the other Allied Warlords of Evil? (Double hairball.) Or--least appealing of all--the Calico Queen, his former earthcat protege and current ruler Lyttyrboks? Meanwhile, Raj is trying to survive in an even more perilous group of enemies and allies: the students and parents of the Elba Middle School Newspaper Club.
Heavily illustrated, with a hilarious, biting voice that switches between Raj's and Klawde's perspectives, this is the story of an unlikely friendship that emerges between a boy and the evil cat who arrived on his doorstep.