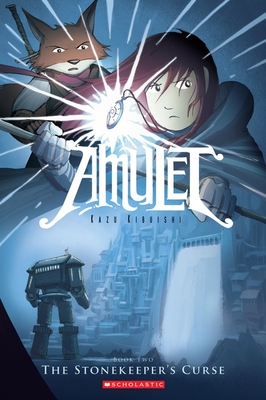 The Stonekeeper's Curse: A Graphic Novel (Amulet #2)
Publication Date:
September 1st, 2009
The Book Nook
1 on hand, as of Nov 30 8:19pm
(Children)
On Our Shelves Now
Description
Graphic novel star Kazu Kibuishi returns with his mysterious world full of new allies . . . and old enemies!
Emily and Navin's mother is still in a coma from the arachnopod's poison, and there's only one place to find help: Kanalis, the bustling, beautiful city of waterfalls. But when Em, her brother, and Miskit and the rest of the robotic crew aboard the walking house reach the city, they quickly realize that seeking help is looking for trouble, dangerous trouble.
Praise for The Stonekeeper's Curse: A Graphic Novel (Amulet #2)
Praise for Amulet
New York Times Bestseller
"Five—no, three pages into Amulet and you'll be hooked." — Jeff Smith, creator of BONE
"[The] action-packed adventure sequences move at an exciting clip . . . Part fantasy . . . and part manga, this volume has much to appeal to readers." — Booklist
"A richly drawn graphic-fantasy series following in the footsteps of BONE and a must for all fantasy fans." — Kirkus Reviews
"Stellar artwork, imaginative character design, moody color and consistent pacing." — PW Comics Week
Praise for Amulet
New York Times Bestseller
"Five—no, three pages into Amulet and you'll be hooked." — Jeff Smith, creator of BONE
"[The] action-packed adventure sequences move at an exciting clip . . . Part fantasy . . . and part manga, this volume has much to appeal to readers." — Booklist
"A richly drawn graphic-fantasy series following in the footsteps of BONE and a must for all fantasy fans." — Kirkus Reviews
"Stellar artwork, imaginative character design, moody color and consistent pacing." — PW Comics Week