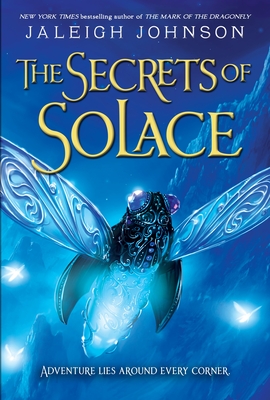 The Secrets of Solace (World of Solace Series #2)
Publication Date:
June 13th, 2017
The Book Nook
1 on hand, as of Nov 30 6:21pm
(General Fiction)
On Our Shelves Now
Description
From the acclaimed author of the New York Times bestseller The Mark of the Dragonfly comes another magical and thrilling tale that takes readers on an exciting new adventure. Perfect for fans of Wrinkle in Time!
   Lina Winterbock lives in the mountain strongholds of Solace. She's an apprentice to the archivists and should be spending her days with books, but the Iron War has changed everything—it's too chaotic to study. The strongholds are now a refuge, so instead of learning about how to preserve the objects that mysteriously fall from the sky, she whiles away her time exploring the hidden tunnels and passages of her home.
   And in one of the forgotten chambers, Lina discovers a secret. Hidden deep in a cavern is a half-buried airship like nothing she has ever seen before.
   Then she meets Ozben, a mysterious boy who has a secret of his own—a secret that's so dangerous it could change the course of the Iron War and the world of Solace forever.
Praise for Jaleigh Johnson's The Secrets of Solace
★ "Highly recommended for those who have finished with Harry and are too young for Katniss." —SLJ, Starred
 
"An engaging world rich in detail, mayhem, and adventure. . . . All aboard for fantasy lovers with a dual penchant for girl power and keeping up with the Indiana Joneses." —Kirkus Reviews
Praise for Jaleigh Johnson's The Mark of the Dragonfly
 
★ "This magnetic middle-grade debut . . . [is] a page-turner that defies easy categorization and ought to have broad appeal." —Publishers Weekly, Starred
 
★ "Heart, brains, and courage find a home in a steampunk fantasy worthy of a nod from Baum." —Kirkus Reviews, Starred
 
★ "A fantastic and original tale of adventure and magic. . . . Piper is a heroine to fall in love with: smart, brave, kind, and mechanically inclined to boot." —SLJ, Starred
Praise for The Secrets of Solace (World of Solace Series #2)
Praise for The Quest to the Uncharted Lands:
★ "The author's endearing STEAM-loving heroine and magical hero hit all the right buttons for middle grade readers....Funny and heartbreaking...a must-have choice for all middle grade shelves." —SLJ, Starred

"A full-throttle fanfare for those with a predilection for alchemy, adventure, and a little anarchy."—Kirkus Reviews
Praise for The Mark of the Dragonfly:
 
A New York Times Bestseller
★ "This magnetic middle-grade debut…[is] a page-turner that defies easy categorization and ought to have broad appeal."—Publishers Weekly, Starred Review
 
★ "Heart, brains, and courage find a home in a steampunk fantasy worthy of a nod from Baum."--Kirkus Reviews, Starred Review
 
★ "A fantastic and original tale of adventure and magic...Piper is a heroine to fall in love with: smart, brave, kind, and mechanically inclined to boot."—SLJ, Starred Review
 
"A complex and impeccably developed plot—there is plenty to recommend in this novel."—The Bulletin
 
"Appealing characters and lots of action make it a good choice for young adventure readers."—Booklist

Praise for The Secrets of Solace:
★ "Highly recommended for those who have finished with Harry and are too young for Katniss."—SLJ, Starred Review
"An engaging world rich in detail, mayhem, and adventure . . . All aboard for fantasy lovers with a dual penchant for girl power and keeping up with the Indiana Joneses." —Kirkus Reviews
"With imaginative details . . . readers will be rewarded by exciting action scenes and a deeper knowledge of Solace."—Booklist
"The book nicely balances the firm structure of the archivists' orderly lives with the wild abandon of the protagonist."—The Bulletin


Praise for The Door to the Lost:


★ "Exquisite worldbuilding will please steadfast fans of Johnson's...and apropos themes of refugees and found families are addressed in a way that retains fantasy flavor while realistically presenting the brutality of ignorance and beauty of humanity. Your new favorite fantasy."—Kirkus Reviews, Starred Review
"Johnson's immersive world building is vivid...and the fast-paced action, compelling characters, and one cute magical fox will keep fantasy-loving kids hooked."—Booklist


"With heartfelt explorations of the meanings of friendship and family...fans of portal fantasies, steampunk, and action-driven books will find this an entertaining read and will be left wanting more."—School Library Journal