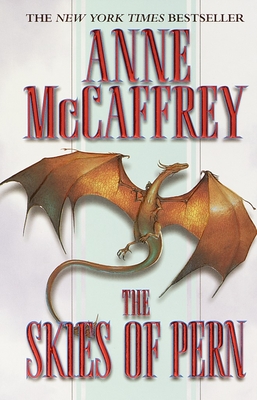 The Skies of Pern
Publication Date:
January 2nd, 2002
The Book Nook
1 on hand, as of Dec 5 8:20am
(General Fiction)
On Our Shelves Now
Description
In this triumphant return to Pern, Anne McCaffrey takes us on an adventure as surprising and unforgettable as any that has come before . . .
It is a time of hope and regret, of endings and beginnings. The Red Star, that celestial curse whose eccentric orbit was responsible for Thread, has been shifted to a harmless orbit, and the current Threadfall will be the last. Technological marvels are changing the face of life on Pern. And the dragonriders, led by F'lessan, son of F'lar and Lessa and rider of bronze Golanth, and Tia, rider of green Zaranth, must forge a new place for themselves in a world that may no longer need them.
But change is not easy for everyone. There are those who will stop at nothing—not even violence—to keep Pern and its people pure. And now a brand-new danger looms from the skies . . . and threatens a catastrophe of unimaginable proportions.
Once again, the world looks to the dragons and their riders to solve the crisis and save the world. But now, as the friendship of F'lessan and Tia begins to bloom into something more, unforeseen tragedy strikes: a tragedy destined to forever change the future—not just of the two young lovers, but of every human and dragon on Pern . . .
Praise for The Skies of Pern
"SUPERB STORYTELLING AND ENGAGING CHARACTERS . . .McCaffrey's most popular series takes on a new dimension with the latest installment, as familiar characters feel the weight of their years, giving way to a new generation of humans and their dragon companions."
–Library Journal (starred review)
"The continuing evolution of this world is carefully handled and always fascinating. . . . Multifaceted as the eyes of their dragons, these novels offer romance, adventure, medieval pageantry, intrigue . . . [and] a satisfyingly complex society. In The Skies of Pern, McCaffrey serves up a buffet which can satisfy virtually anyone who steps up to its table."
–SciFi Weekly