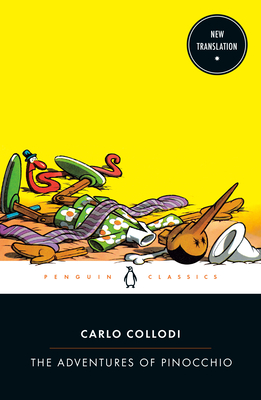 The Adventures of Pinocchio
Publication Date:
September 14th, 2021
Publisher:
Penguin Classics
The Book Nook
2 on hand, as of Nov 30 6:21pm
(Classic)
On Our Shelves Now
Description
A revelatory new annotated edition of the most translated Italian book in the world--the basis for two new major motion pictures: a Netflix animated version co-directed and co-written by Guillermo del Toro and voiced by Ewan McGregor, Cate Blanchett, and Tilda Swinton, and a Disney Plus live-action version directed by Robert Zemeckis and starring Tom Hanks, Cynthia Erivo, Joseph Gordon-Levitt, Lorraine Bracco, and Keegan-Michael Key
A Penguin Classic
Carved from a piece of wood by the old carpenter Geppetto, the puppet Pinocchio comes to life and immediately starts to misbehave. But while this beloved character has achieved literary immortality, the novel has been widely misunderstood. Pinocchio has a penchant for lying, to be sure, but it's when he avoids going to school that he repeatedly gets into trouble. The Adventures of Pinocchio is thus not a cautionary tale about lying but an unusually timely fable for our increasingly authoritarian times--a story about the importance of education and of preventing others from pulling our strings.
 
This effervescent new translation captures the antic spirit that makes the mischievous, egotistical, and easily distracted Pinocchio a late nineteenth-century prototype for the likes of Bart Simpson. Featuring copious annotations informed by the translators' deep knowledge of Italy, it reveals the novel to be not only a subversively entertaining children's book but also a sophisticated satire reflecting the author's concern for the social inequality of his time and his belief that duty to others is at the core of our humanity.
For more than seventy-five years, Penguin has been the leading publisher of classic literature in the English-speaking world. With more than 2,000 titles, Penguin Classics represents a global bookshelf of the best works throughout history and across genres and disciplines. Readers trust the series to provide authoritative texts enhanced by introductions and notes by distinguished scholars and contemporary authors, as well as up-to-date translations by award-winning translators.
Praise for The Adventures of Pinocchio
"A zingy new translation." ―The Economist
"Perfectly timed. The translators . . . do justice to the story with their insightful annotations and cogent introduction. . . . Who can't love a story as wildly inventive as [this]? Children certainly love it—and have so for nearly 150 years. But Pinocchio can also grab the interest of any adult willing to engage with the story's rich tapestry of symbolism, archetypes, and layers of meaning. . . . Should you find yourself watching all or none of the recent and upcoming film adaptations of Pinocchio, this new translation from Penguin Classics is a terrific way to get reacquainted with one of the world's most popular and important stories." ―PopMatters
"Very lively . . . A fine translation in many ways, and I love the way it brings out the Italianness, and I do like the punch of it. It's great." ―Ann Hallamore Caesar, The TLS Podcast
"A complex, unsettling novel—miles away from the morality tale that Pinocchio's story has become . . . Pinocchio harbors a strain of systemic injustice and deep betrayal. . . . Imbued with social criticism and pessimistic humor, [it] can be read, among other things, as an irreverent attack on established authority. . . . As the translators John Hooper and Anna Kraczyna note in a recent critical edition published by Penguin, it's no coincidence that the utterance 'Pazienza!' occurs 15 times throughout the novel. . . . It's a quintessentially Italian admission of defeat . . . that, as Hooper and Kraczyna note, 'echoes centuries of unwilling yet unavoidable resignation.' " —The Atlantic
"An effort to reclaim the spirit of the original, particularly as something distinct from the animated Disney cartoon that most are familiar with . . . Their goal . . . is not dissimilar to that of Matteo Garrone in his wonderfully dark film adaptation: to demonstrate, once again, that Pinocchio is far more than just a children's story." ―The Week in Italy