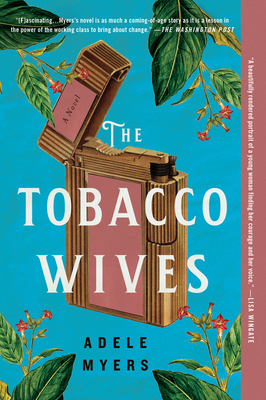 The Tobacco Wives: A Novel
Publication Date:
March 28th, 2023
Publisher:
William Morrow Paperbacks
The Book Nook
2 on hand, as of Nov 30 6:21pm
(Historical Fiction)
On Our Shelves Now
In 1940's North Carolina, tobacco is big business. If you saw that the crop your community's livelihood depends on also harms their health, what would you do? This is teenager Maddie Sykes' dilemma. Her story will really make you think.
March 2022 Indie Next List
This novel tells the story of Maddie Sykes, a young seamstress whose befriending of the fashionable tobacco wives is challenged by a disturbing discovery. You can hear the taffeta swoosh and smell the smoke in this compelling debut.
Spring 2023 Reading Group Indie Next List
Description
Most anticipated by USA Today, W Magazine, New York Post, Parade, Bustle, Buzzfeed, Reader's Digest, and PopSugar and named one of the best historical fiction books of the year by Cosmopolitan!
"A beautifully rendered portrait of a young woman finding her courage and her voice."—Lisa Wingate, #1 New York Times bestselling author
North Carolina, 1946. One woman. A discovery that could rewrite history.
Maddie Sykes is a burgeoning seamstress who's just arrived in Bright Leaf, North Carolina—the tobacco capital of the South—where her aunt has a thriving sewing business. After years of war rations and shortages, Bright Leaf is a prosperous wonderland in full technicolor bloom, and Maddie is dazzled by the bustle of the crisply uniformed female factory workers, the palatial homes, and, most of all, her aunt's glossiest clientele: the wives of the powerful tobacco executives.
But she soon learns that Bright Leaf isn't quite the carefree paradise that it seems. A trail of misfortune follows many of the women, including substantial health problems, and although Maddie is quick to believe that this is a coincidence, she inadvertently uncovers evidence that suggests otherwise.
Maddie wants to report what she knows, but in a town where everyone depends on Big Tobacco to survive, she doesn't know who she can trust—and fears that exposing the truth may destroy the lives of the proud, strong women with whom she has forged strong bonds.
Shedding light on the hidden history of women's activism during the post-war period, at its heart, The Tobacco Wives is a deeply human, emotionally satisfying, and dramatic novel about the power of female connection and the importance of seeking truth.
"This is a story of courage, of women willing to take a stand in the face of corporate greed, and most definitely a tale for our times." —Fiona Davis, New York Times bestselling author
Praise for The Tobacco Wives: A Novel
"Fascinating…Myers's novel is as much a coming-of-age story as it is a lesson in the power of the working class to bring about change." — Washington Post
"A vibrant and warm book that feels easy to pick up and hard to put down." — Buzzfeed
"Readers are transported back to 1946 in this fascinatingly rich debut novel…. A vibrant story that sheds light on the lives of women in the post-war period." — Woman's World
"Moving…A winning debut that reveals how our past is always with us." — Toronto Star
"Myers brilliantly seduces us with her setting—a North Carolina town of beautiful socialites, opulent dresses, and elegant soirees—before revealing a terrible secret that threatens the entire community. This is a story of courage, of women willing to take a stand in the face of corporate greed, and most definitely a tale for our times." — Fiona Davis, New York Times bestselling author of The Lions of Fifth Avenue
"A sparkling debut… Historical fiction fans will be pleased." — Publishers Weekly
"The Tobacco Wives is a sweep-you-away story with a lush North Carolina setting and a courageous woman at its center. What more do we want from a story than this? Myers's prose is stitched together as beautifully as the fancy dresses her protagonist Maddie Sykes sews for the elite women of this tobacco town. The question at the heart of this novel trembles with power—what happens when what we know is right conflicts with what we are being told is true? Myers's story will resonate long after you turn the last page; powerful and authentic, The Tobacco Wives is unforgettable." — Patti Callahan Henry, New York Times bestselling author of Surviving Savannah 
"Debut novelist Myers sets her activist novel in 1946, but the causes of workers' and women's rights are timeless." — Booklist
"The future in Bright Leaf seems bright for Maddie Sykes and for the local tobacco wives who can't get enough of Maddie's glamorous gowns. But beneath the idyllic surface lie dangerous underpinnings and a choice that will test one young woman's spirit, forcing her to weigh the relative value of profits and people. A beautifully rendered portrait of a young woman finding her courage and her voice."  — Lisa Wingate, #1 New York Times bestselling author of Before We Were Yours
"The Tobacco Wives by Adele Myers puts the strong bonds between women in the post-WWII era front and center."  — Popsugar
"Adele Myers brings mid-century North Carolina vividly to life in her impressive, beautifully detailed debut novel, The Tobacco Wives, a suspenseful coming-of-age story of a brave young woman's search for dangerous truths obscured by corporate deceit and betrayal." — Jennifer Chiaverini, New York Times bestselling author of Resistance Women
"With an atmosphere so thick you could blow it out in smoke rings, Adele Myers vividly conjures post war North Carolina, where ladies wear matching hats and gloves and no one questions the supremacy of the all-powerful tobacco leaf—except one young woman, trying to find her place in the world, torn between conflicting loyalties. A thoroughly immersive and engaging read!" — Lauren Willig, New York Times bestselling author of Band of Sisters
"The Tobacco Wives is a perfect example of the kind of historical fiction I love best: a story firmly grounded in the past that still feels powerfully resonant today. In Adele Myers's capable hands, post-WW2 North Carolina--the tobacco capital of the South--comes alive in technicolor, with all the glamour of Southern society, as well as a hidden underbelly of dangerous secrets and lies. We're along for the satisfying journey as Maddie Sykes--a plucky 16-year-old who has faced more loss than anyone deserves--learns what she's made of and tries to summon the courage to stand up to people who could make or break the rest of her life. A powerful debut and coming-of-age story rich in pitch-perfect dialogue and detail, The Tobacco Wives will transport you to Big Tobacco's golden age just as it begins to unravel--and remind you that we all have the power to stand up and fight for the things that are right."  — Kristin Harmel, New York Times bestselling author of The Book of Lost Names and The Forest of Vanishing Stars
"North Carolina native Myers mines her family history while incorporating extensive research on Big Tobacco in this chilling exposé…. The novel's message resonates today." — Historical Novel Society
"[A]n authentic rendering of small-time Southern life in the '40s as well as an engrossing depiction of the power of female connections. Perfect for Lisa Wingate fans." — The Augusta Chronicle
"[A] sparkling debut." — Arlington Magazine
"The semi-autobiographical The Tobacco Wives is a first novel and a tour-de-force. Myers evokes the postwar world with deftly-drawn believable characters, and a real-life situation that highlights women's activism and the toxic lies of a major industry." — AuthorLink