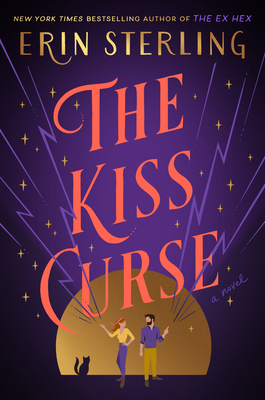 The Kiss Curse: An Ex Hex Novel (The Graves Glen Series #2)
Publication Date:
September 20th, 2022
The Book Nook
2 on hand, as of Nov 30 7:20pm
(Romance)
On Our Shelves Now
If you swooned over The Ex Hex, the sequel is here! This time featuring Gwen (and Sir Purrcival) with more witchy hijinks, quirky characters, and steamy scenes. This is an absolute Halloween treat; there better be a third book next year!
October 2022 Indie Next List
Description
The follow-up to Erin Sterling's New York Times bestselling hit The Ex Hex features fan favorite Gwyn and the spine-tinglingly handsome Wells Penhallow as they battle a new band of witches and their own magical chemistry.
Gwyn Jones is perfectly happy with her life in Graves Glen. She, her mom, and her cousin have formed a new and powerful coven; she's running a successful witchcraft shop, Something Wicked; and she's started mentoring some of the younger witches in town. As Halloween approaches, there's only one problem—Llewellyn "Wells" Penhallow.
Wells has come to Graves Glen to re-establish his family's connection to the town they founded as well as to make a new life for himself after years of being the dutiful son in Wales. When he opens up a shop of his own, Penhallow's, just across the street from Something Wicked, he quickly learns he's gotten more than he bargained for in going up against Gwyn.
When their professional competition leads to a very personal—and very hot—kiss, both Wells and Gwyn are determined to stay away from each other, convinced the kiss was just a magical fluke. But when a mysterious new coven of witches come to town and Gwyn's powers begin fading, she and Wells must work together to figure out just what these new witches want and how to restore Gwyn's magic before it's too late.
Praise for The Kiss Curse: An Ex Hex Novel (The Graves Glen Series #2)
"A spooky romantic comedy treat that had me sighing at one page, laughing out loud at the next. The Ex Hex is the perfect book for fall." — New York Times bestselling author Tessa Bailey
"Sterling casts a spell on her readers with this romantic comedy. … As humorous and fantasy filled as the novel is, it also encourages readers to ponder the idea that the world is a very small place. Sterling puts a wonderful spin on two people who once had each other's backs to two people who need each other to save a city from destruction. A cute and laughable holiday read to get you through the harsh winter weather." — USA Today on The Ex Hex
"Filled with delightful witchiness and humor, this playful romantic comedy from Sterling explores second chances and self-discovery. … Comedic chaos rules the day, with plenty of laughs overlaying just a touch of introspection as the exes realize how much they still mean to each other. The result is a fluffy Halloween treat." — Publishers Weekly on The Ex Hex
"Sterling's novel is ultimately crisp and sweet, like biting into the perfect caramel apple, and makes for an equally delicious autumn treat that will sweep readers up into a world of whimsical magic. A wickedly funny rom-com about the power of second chances, family, and love." — Kirkus Reviews on The Ex Hex
"Cozy and cute and Halloween appropriate, and Rhys is extremely attractive. The Ex Hex was, in short, a blast." — Jezebel