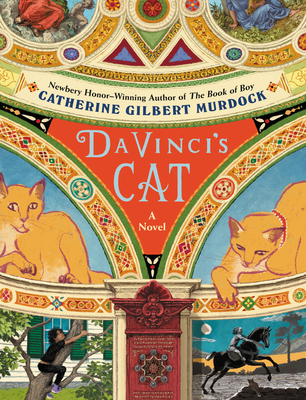 Da Vinci's Cat
Publication Date:
May 25th, 2021
Publisher:
Greenwillow Books
The Book Nook
2 on hand, as of Dec 8 8:19pm
(General Fiction)
On Our Shelves Now
Federico in 16th Century Rome is being held captive by the Pope but mostly he just needs a friend. Bee a contemporary girl with problems of her own and Da Vicinci's cat might just be able to help. I can't wait to recommend this book to middle schoolers and as a great family read-aloud. It truly has something for everyone. It is historical fiction, fantasy and a mystery. It includes great artists, time travel, adventure and of course a cat! This is my favorite book by Catherine Murdock yet and that is saying a lot.
May/June 2021 Kids Indie Next List
Description
"Thoroughly charming."—Kirkus Reviews (starred review)
"Original."—Booklist (starred review)
"A story about selflessness, friendship and the importance of seeking unity through difference."—Shelf Awareness (starred review)
Two unlikely friends—Federico, in sixteenth-century Rome, and Bee, in present-day New Jersey—are linked through an amiable cat, Leonardo Da Vinci's mysterious wardrobe, and an eerily perfect sketch of Bee. Newbery Honor author Catherine Gilbert Murdock's Da Vinci's Cat is a thrilling, time-slip fantasy about rewriting history to save the present. This inventive novel will engross anyone who loved When You Reach Me and A Wrinkle in Time.
Federico doesn't mind being a political hostage in the Pope's palace, especially now that he has a cat as a friend. But he must admit that a kitten walking into a wardrobe and returning full-grown a moment later is quite odd. Even stranger is Herbert, apparently an art collector from the future, who emerges from the wardrobe the next night. Herbert barters with Federico to get a sketch signed by the famous painter Raphael, but his plans take a dangerous turn when he hurries back to his era, desperate to save a dying girl.
Bee never wanted to move to New Jersey. When a neighbor shows Bee a sketch that perfectly resembles her, Bee, freaked out, solidifies her resolve to keep to herself. But then she meets a friendly cat and discovers a mysterious cabinet in her neighbor's attic—a cabinet that leads her to Renaissance Rome. Bee, who has learned about Raphael and Michelangelo in school, never expected she'd get to meet them and see them paint their masterpieces.
This compelling time-slip adventure by Newbery Honor author Catherine Gilbert Murdock is full of action, mystery, history, art, and friendship—and features one unforgettable cat.
Includes black-and-white spot art throughout of Da Vinci's cat by Caldecott Medalist Paul O. Zelinsky, as well as an author's note about the art, artists, and history that inspired the novel .
Praise for Da Vinci's Cat
"The course of time travel never does run smooth. . . . Bee and Federico manage to colossally mess with history, leading to adventures as they try to get things back on track. . . . Detailed writing brings the past to life in this delightful time-slip story populated by an array of outsized figures from history. . . . Thoroughly charming." — Kirkus Reviews (starred review)
"After receiving a Newbery Honor for The Book of Boy, Murdock returns to the historical fiction genre, this time mixing things up with time travel (thanks to a clever wardrobe built by Leonardo da Vinci) and an art mystery. Murdock keeps her story fresh with tight, fast-paced writing that incorporates history by bringing it engagingly to life and tying it meaningfully to the present. . . . Spot art from Zelinsky will appear in the final edition of this inspired foray into the Renaissance and beyond." — Booklist (starred review)
"A fanciful, middle-grade alternate history . . . A story about selflessness, friendship and the importance of seeking unity through difference."  — Shelf Awareness (starred review)
"Federico's pampered life is opulent but lonely, until he discovers a cat in an enigmatic closet designed by Leonardo da Vinci. The cat's mysterious movements link him to only child Bee, an intrepid 21st-century Brooklynite who discovers a drawing of herself—purportedly by Raphael—in the home of elderly neighbor . . . Murdock crafts an arresting blend of speculative time travel and art mystery with a sumptuously imagined Renaissance Italy setting filled with evocative sensory details. . . . Vividly rendered." — Publishers Weekly
"An original combination of portal fantasy, historical fiction, and time-travel with a hint of alt-history . . . When eleven-year-old Federico, confined to Rome as hostage of the pope, discovers a time-travel wardrobe constructed by Leonardo da Vinci, the fun begins. . . . An intricate plot, macramé-like in its action . . . The narrative is rich in characters . . . The most compelling character, however, is Renaissance Rome itself . . . Murdock is at home in that world as she was in the Middle Ages of her Newbery Honor-winning The Book of Boy." — Horn Book Magazine
"Eleven-year-old Federico Gonzaga is the pope's pampered hostage, held as security for his father's loyalty as head of the Pope's army. The sixteenth century is an interesting time to be captive at the Vatican, with artists Raphael and Michelangelo embellishing Pope Julius' palace and sparring with and spying on each other in a most unprofessional manner. Federico is even more diverted, though, by the appearance of a cat named Juno and a 1928 New Jersey time traveler . . . Many lively hijinks and much time travel ensue."  — Bulletin of the Center for Children's Books
"Newbery Honor winner Murdoch's middle grade novel is an engaging adventure story with a lot of time traveling. Bee and Frederico are two children from different time periods . . . [and] their quest is to rewrite the past to save the future . . . Murdoch will captivate ­readers . . . This time-travelling friendship book will be a hit for fans of C.S. Lewis's The Lion, the Witch and the Wardrobe and Lloyd Alexander's Time Cat." — School Library Journal
"Catherine Gilbert Murdock weaves a cat's cradle of a book. From chapter to chapter, the narrative strands intertwine and double back, creating connections between Rome in 1511 and a modern-day American suburb. . . . Readers ages 8-13 will enjoy untangling the threads that link the children to Raphael and each other and also to Michelangelo, the turbulent and odiferous artist who, during the story, is at work on the ceiling of the Sistine Chapel." — Wall Street Journal
"With its engaging friendships, enigmatic time travel and rollicking art mystery, Da Vinci's Cat reminds me of Madeleine L'Engle's A Wrinkle in Time, Rebecca Stead's When You Reach Me and E. L. Konigsburg's From the Mixed-Up Files of Mrs. Basil E. Frankweiler — three of my favorite books — rolled into one." — New York Times