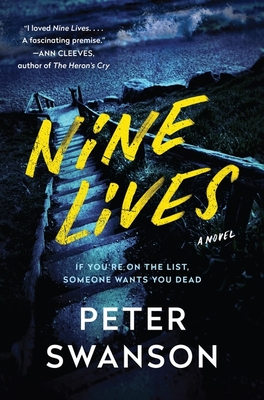 Nine Lives: A Novel
Publication Date:
March 15th, 2022
Publisher:
William Morrow
The Book Nook
1 on hand, as of Nov 28 2:20pm
(Mystery/Adventure)
On Our Shelves Now
It's impossible to describe the experience of reading Nine Lives as anything other than edge-of-your-seat. Death truly lurks around every corner, around every page. It eats at the characters and it eats at you. Wicked fun.
April 2022 Indie Next List
Description
"[A] smartly entertaining reimagining of Agatha Christie's classic And Then There Were None… Swanson cunningly plays with readers' heads as we hope so-and-so gets it next."— Washington Post 
If you're on the list, someone wants you dead.
From the New York Times bestselling author of Eight Perfect Murders comes the heart-pounding story of nine strangers who receive a cryptic list with their names on it—and then begin to die in highly unusual circumstances.
Nine strangers receive a list with their names on it in the mail. Nothing else, just a list of names on a single sheet of paper. None of the nine people know or have ever met the others on the list. They dismiss it as junk mail, a fluke—until very, very bad things begin happening to people on the list.
First, a well-liked old man is drowned on a beach in the small town of Kennewick, Maine. Then, a father is shot in the back while running through his quiet neighborhood in suburban Massachusetts. A frightening pattern is emerging, but what do these nine people have in common? Their professions range from oncology nurse to aspiring actor, and they're located all over the country. So why are they all on the list, and who sent it?
FBI agent Jessica Winslow, who is on the list herself, is determined to find out. Could there be some dark secret that binds them all together? Or is this the work of a murderous madman? As the mysterious sender stalks these nine strangers, they find themselves constantly looking over their shoulders, wondering who will be crossed off next…
Praise for Nine Lives: A Novel
"The mysterious letters that arrive for the unlucky folks in Peter Swanson's terrific Nine Lives are all identical… The plot is an ingenious puzzle… Forget trying to solve the mystery yourself. But be aware that if you look closely, you may spot the murderer… hiding in plain sight." — New York Times Book Review
"[A] smartly entertaining reimagining of Agatha Christie's classic And Then There Were None… Swanson cunningly plays with readers' heads as we hope so-and-so gets it next… In addition to the suspense — who's doing this, and why? — there's lots of literary wit." — Washington Post on Nine Lives
"Swanson honors genre traditions by arousing expectations only to subvert them—and then subvert them again. Some of the surprises are so unexpected, readers may be doing mental backflips to keep up. The author of Nine Lives has surpassed his own high standards." — Wall Street Journal
"Swanson again takes the idea of fiction as homage to deliriously vertiginous new heights… While the tension mounts deliciously as we wonder if there will be any survivors, the real fascination here is the explanation itself—and what it reveals about the cancerous effects of guilt and obsession." — Booklist (starred review)
"Swanson (Every Vow You Break) neatly riffs on Agatha Christie's classic And Then There Were None in this taut thriller… [A] well-crafted page-turner." — Publishers Weekly
"I loved Nine Lives. Swanson's sharp and insightful characterization brought to life a fascinating premise. The whole resolution is beautifully worked out." — Ann Cleeves, author of The Heron's Cry
"With economical strokes of his pen, Peter Swanson presents us with a clever homage to the Golden Age of Mystery and keeps us guessing right to the end."  — Peter May, author of The Blackhouse
"Gosh, Nine Lives is good. Incredibly so." — Winnipeg Free Press
"Swanson is emerging as the king of the classic mystery revival. His last two books, Every Vow You Break and Eight Perfect Murders, were deservedly bestsellers and received many awards… Nine Lives lives up to all that and more. This is his best book yet. The premise is near perfection." — Globe and Mail (Toronto)
"[Swanson] has earned a reputation for ingenious plotting and a clear, precise writing style — and "Nine Lives" is no exception. And this time, he tells readers just enough about the lives of the nine people on the hit list to make readers care what happens to them." — Associated Press
"Swanson creates a rollercoaster for readers." — BookPage
"Echoes of Agatha Christie reverberate through Nine Lives as Peter Swanson… brings a fresh, contemporary approach to the classic And Then There Were None. [Swanson's] intense storytelling energizes Nine Lives. Swanson delivers a surprising but believable resolution that ties together all the characters in this solid thriller." — Shelf Awareness
"Peter Swanson is one of my go-to authors, and he keeps getting better with each new book he writes. His latest effort, Nine Lives, is no exception. Not only is it a terrific mystery/thriller that keeps you guessing right up until the last page, it just happens to be inspired by one of my all-time favorite novels: Agatha Christie's And Then There Were None." — Bookreporter.com
"Swanson alternates points of view with alacrity, unleashing a varied and vibrant ensemble…Peter Swanson is the king of the high concept thriller, and Nine Lives marks yet another ambitious addition to his collected works. An ode to Agatha Christie's classic And Then There Were None, it expands on her premise by moving the killing grounds from an insular island setting to America at large." — CriminalElement.com
"'Deliciously ingenious… With twist upon twist, and false clue upon false clue, this is superb, elegant crime writing with more than a nod to the genre's past.'" — Daily Mail (UK)
"Diving into the plot of a Peter Swanson novel is rather like getting involved, if not quite in a game of chess, then in a particularly sharp game of checkers. Swanson's earlier bestselling "Eight Perfect Murders" qualified as a solid book of this type. "Nine Lives" is even better."  — Toronto Star
"Hitchcockian chills and thrills abound in Swanson's latest mystery, a twisty tale of survival and deception. "  — O, the Oprah Magazine on Every Vow You Break
"Swanson specializes in writing mesmerizing thrillers that subvert readers' expectations. The author works his particular magic once again with Every Vow You Break… Swanson's shape-shifting saga is reminiscent, by turns, of such foreboding films as Vertigo [and] Fatal Attraction." — Wall Street Journal
"Just when we think we have an idea of what Abigail is up against, Swanson pulls the rug away from under us. Strange events give way to sinister revelations... The last act cranks up tension to the breaking point. Sit back, suspend all disbelief, and watch those pages fly by." — Minneapolis Star Tribune on Every Vow You Break
"With mounting tension and fraying nerves, it careens to the final stunning conclusion. A true tour de force." — Lisa Gardner on Eight Perfect Murders
"Eight Perfect Murders creates expectations it then subverts, presents suspects only to eliminate them, and in general has its own way with the tropes of the mystery thriller—including that genre mainstay, the unreliable narrator." — Wall Street Journal
"A devious whodunit" — New York Times Book Review on Eight Perfect Murders
"In Peter Swanson's expert hands, one woman's discerning observation at a quiet suburban dinner party unfolds into a gripping, twisty, psychologically complex thriller. I could not put it down." — Alafair Burke on Before She Knew Him
"A fun read, full of switchbacks and double crosses… With classic misdirection, Swanson distracts us from the details - changing up murderers and victims fast enough to keep us reading. And, implausibly, rooting for the cold-blooded killer at this thriller's core." — Boston Globe on The Kind Worth Killing
"Chilling and hypnotically suspenseful … could be an instant classic." — Lee Child on The Kind Worth Killing
The Kind Worth Killing is not your ordinary murder mystery; it is an extraordinarily well-written tale of deceit and revenge told by a very gifted writer. Peter Swanson takes us on a harrowing journey through the hearts and minds of a cast of characters who seem normal on the outside, but are deliciously abnormal on the inside. The twists are not just in the plot; they are also in the heads of the plotters." — Nelson DeMille