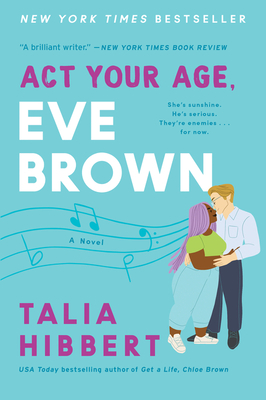 Act Your Age, Eve Brown: A Novel (The Brown Sisters #3)
Publication Date:
March 9th, 2021
The Book Nook
1 on hand, as of Nov 30 7:20pm
(Romance)
On Our Shelves Now
A satisfying conclusion to an absolutely delightful series! In the final installment of the trilogy, we follow the youngest Brown sister, Eve, a lovable hot mess who is looking to prove to her parents that she can get her life together. Her attempts to turn things around lead her to accidentally interview for as job as a chef at a bed and breakfast. The owner of the B&B, Jacob, is Eve's polar opposite on paper, so they naturally get off to a bad start. It doesn't help that Eve also hits him with her car! As the pair begin to learn more about each other, the sweetest romance blooms. Talia Hibbert proves once again that she knows how to write a romantic comedy!
March 2021 Indie Next List
Description
AN INSTANT NEW YORK TIMES BESTSELLER
In Talia Hibbert's newest rom-com, the flightiest Brown sister crashes into the life of an uptight B&B owner and has him falling hard—literally.
Featured on Parade, PopSugar, Marie Claire, Oprah Mag, Bustle, Shondaland, CNN.com, Kirkus Magazine, Bookpage, USA Today, Bookish, Bookriot, and more!
Eve Brown is a certified hot mess. No matter how hard she strives to do right, her life always goes horribly wrong. So she's given up trying. But when her personal brand of chaos ruins an expensive wedding (someone had to liberate those poor doves), her parents draw the line. It's time for Eve to grow up and prove herself—even though she's not entirely sure how…
Jacob Wayne is in control. Always. The bed and breakfast owner's on a mission to dominate the hospitality industry and he expects nothing less than perfection. So when a purple-haired tornado of a woman turns up out of the blue to interview for his open chef position, he tells her the brutal truth: not a chance in hell. Then she hits him with her car—supposedly by accident. Yeah, right.
Now his arm is broken, his B&B is understaffed, and the dangerously unpredictable Eve is fluttering around, trying to help. Before long, she's infiltrated his work, his kitchen—and his spare bedroom. Jacob hates everything about it. Or rather, he should. Sunny, chaotic Eve is his natural-born nemesis, but the longer these two enemies spend in close quarters, the more their animosity turns into something else. Like Eve, the heat between them is impossible to ignore... and it's melting Jacob's frosty exterior.
Praise for Act Your Age, Eve Brown: A Novel (The Brown Sisters #3)
"I love getting lost in a story that I cannot put down—and even better if it involves a lot of laughter and swooning. Talia Hibbert always delivers and her books are the perfect material for a beach trip or a pick-me-up. She's unputdownable, every time." — Taylor Jenkins Reid
"Talia Hibbert knows how to write funny, sharp characters with love interests who meet them toe to toe in such a *hot* way... The author's charm and wit sings off the page..." — Bolu Babalola, author of Love in Color
"[W]hen I read the Brown Sisters series by Talia Hibbert, those books warmed my heart because I got to see Black femmes who were in chronic pain, who were neurodivergent, and who didn't fit white supremacist beauty standards being loved and loved fiercely." — Akwaeke Emezi, author of You Made a Fool Out of Death with Your Beauty
"This witty enemies-to-lovers, opposites-attract novel is downright adorable — all three Brown Sisters books need to be on every romance-lover's reading list!"  — Popsugar
"Their biting banter and saucy looks will delight readers who enjoy a good enemies-to-lovers tale that doesn't shy away from epic sex scenes or raw emotions. Hibbert concludes the brilliant Brown Sisters series on high a note." — Booklist (starred review)
"This satisfying conclusion... provides a happily ever after for the third Brown sister. Through Jacob and Eve, both characters on the autism spectrum, Hibbert explores themes of self-discovery and belonging with her trademark humor and sensitivity, providing plenty of heat as her characters begin to understand each other."  — Library Journal (starred review)
"Eve's journey to understanding her fears is sweet, and Jacob's belief in her as a caring, capable adult is the stuff romance heroes are made of. Hibbert has a gift for writing truly funny dialogue and genuinely tender emotional moments. Full of heart and humor, this is a sexy, satisfying end to a beloved series. Absolutely charming." — Kirkus Reviews (starred review)
"Talia Hibbert has quickly become the go-to writer for those who like their romances to be heartwarming, thought-provoking and fun in equal measure… Throughout Eve and Jacob's story, Hibbert exhibits masterful control of plot and character. Act Your Age, Eve Brown is a wonderful blend of tropes and reality. It's the kind of book that inspires myriad feelings: It will make you laugh, cry, sigh and swoon. But more than anything else, the experience of reading Act Your Age, Eve Brown is pure pleasure." — BookPage (Starred Review)
"There are perhaps few things that put me in a better mood than the prospect of a new Talia Hibbert book. [This] is her conclusion to the divine Brown sisters series, a trio of books as warm and comforting as a hug… Hibbert's books are always big-hearted, sexy-as-hell reads… Reading Act Your Age, Eve Brown is like nestling into a cloud, an invitation to float way on a dreamy, soft puff of bliss. Because Hibbert's books are brilliant, wonderful gifts, bursting with the promise that everything will be okay — at least while we're lost in her stories." — Entertainment Weekly
"The third novel in Hibbert's Brown Sisters trilogy is as delightful as her previous books. Eve — a purple-haired woman who specializes in chaos — finagles her way into a job at a B&B, working for the very uptight Jacob. Expect snappy dialogue and simmering tension that will inevitably turn romantic." — Washington Post
"An unpredictable, laugh-out-loud love story where opposing personalities don't translate to incompatible. Think slapstick meets sexy but with a good dose of sensitivity." — USA Today
"The Brown Sisters series's final book serves up the same wit and swoon-worthy romance Hibbert is known for." — Marie Claire (Best New Romance Novels of 2021)
"[A] fizzy, intoxicating sense of humor that bubbles off the page."  — Entertainment Weekly
"[A] brilliant writer." — New York Times Book Review
"Talia Hibbert is a rockstar! Her writing is smart, funny, and sexy, but most importantly, she'll make you fall in love with her sweetly imperfect characters, who are so real you'll wish you could give them all a hug."  — Meg Cabot, #1 New York Times bestselling author of the Little Bridge Island and Princess Diaries series  
"Get a Life, Chloe Brown is a rom-com with depth, one that explores living with illness, the benefits of therapy, and how two people can better communicate when they slough off their own rough exteriors." — Shondaland
"If you love rom-coms, this incredibly charming novel will sweep you off your feet."  — Popsugar
"The final installment in Talia Hibbert's warm, witty, and  critically acclaimed trilogy... Bring the other two books in the series with you on vacation—trust us, you'll want to read more." — OprahMag.com
"Calling all romance seekers who know in their heart of hearts that everyone deserves true and unconditional love: we have a book for you. … Talia Hibbert continues to deliver." — Shondaland (5 Best Books for March)