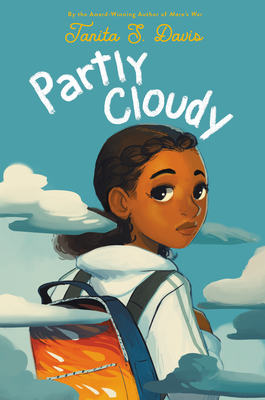 Partly Cloudy
Publication Date:
January 3rd, 2023
Publisher:
Katherine Tegen Books
The Book Nook
5 on hand, as of Nov 28 2:20pm
(General Fiction)
On Our Shelves Now
Description
From award-winning author Tanita S. Davis comes a nuanced exploration of the microaggressions of middle school and a young Black girl named Madalyn who learns that being a good friend means dealing with the blue skies and the rain—and having the tough conversations on days that are partly cloudy. Perfect for fans of A Good Kind of Trouble and From the Desk of Zoe Washington.
Lightning couldn't strike twice, could it? After a terrible year, Madalyn needs clear skies desperately. Moving in with her great-uncle, Papa Lobo, and switching to a new school is just the first step.
It's not all rainbows and sunshine, though. Madalyn discovers she's the only Black girl in her class, and while most of her classmates are friendly, assumptions lead to some serious storms.
Papa Lobo's long-running feud with neighbor Mrs. Baylor brings wild weather of its own, and Madalyn wonders just how far things will go. But when fire threatens the community, Madalyn discovers that truly being neighborly means more than just staying on your side of the street— it means weathering tough conversations—and finding that together a family can pull through anything.
Award-winning author Tanita S. Davis shows us that life isn't always clear, and that partly cloudy days still contain a bit of blue worth celebrating.
Praise for Partly Cloudy
"Davis captures the often glossed over tenderness of preadolescence, the space between blossoming independence and a lingering desire for the comfort and support of caregivers. As feel-good realistic fiction, this title reminds young readers that families and friendships alike require honesty, compromise, and understanding—especially when the forecast is partly cloudy." — Booklist (starred review)
"Young readers will grapple with different interpretations and come to their own conclusions about how not to let the bad actions of others allow one to compromise one's core principles, and the sticky question of whether any part of the burden for making peace rests with those who are the victims of discrimination. The California setting, amid the reality of the state's wildfires, will resonate with readers who live with climate-related threats. A timely novel full of thought-provoking questions."
— Kirkus Reviews
"In this gentle multigenerational narrative, Davis (Serena Says) explores race, tough conversations, and climate change as her endearing protagonist learns to face conflict and embrace community." — Publishers Weekly
"Timely and original. A tender, honest look at friendship, family and the changing nature of both. I so related with Madalyn grappling with the big and small storms life threw her way and cheered when she learned she had the strength to weather just about anything. A delightful, inspiring read." — Lisa Moore Ramee, author of A Good Kind of Trouble and Something to Say
Praise for SERENA SAYS: "Middle school energy forms a bustling backdrop for this clever story of navigating changing relationships and developing a sense of personal identity. At the center is spirited, smart Serena, someone readers will appreciate and cheer. A delightful multicultural narrative that spotlights friendship and self-awareness."